Syria's crisis: It looks like civil war
THE breezy hilltop resort of Zabadani is usually occupied by rich Syrians in second homes and Gulf tourists enjoying the picturesque mountains on the Lebanese border. But for much of January the town of some 40,000 people has been a rebel enclave. After several days of fighting by daring but lightly armed opposition forces, the army, equipped with tanks and heavy weaponry, was forced to pull back on January 18th. Residents hailed their "liberated city" and hung pictures of the dead in a tree. They waved placards and shouted slogans ridiculing the regime. Civilians guarded checkpoints usually manned by the security forces.
Zabadani is not the first place in Syria to experience a brief taste of freedom over the past ten months. Last year Mr Assad's forces temporarily lost control to the opposition in Hama, the country's fourth-largest city. Rastan and Tel Kalakh, two small towns close to Homs, have at times barricaded themselves in. Parts of Homs, the third-largest city, and villages near Idleb have also enjoyed a measure of autonomy.
But Zabadani is much closer to Damascus, the capital, than any of them—about 25 miles (40km). The fight for control of the country is no longer taking place far from the centre of power. Just days after Zabadani was liberated, armed clashes erupted in Douma, a suburb six miles from Damascus. Army defectors seized control of the town for a few hours.
Reports of firefights are no longer rare in what was once a peaceful capital. Two large car bombs exploded in front of a security-services' building on December 23rd. It was followed by another one in a residential area a fortnight later. Few Syrians now dare to drive on the country's main artery, the highway from the capital north to Aleppo, a commercial hub, fearing ambushes on the road. Military buses and oil pipelines are often hit by explosions. Who is responsible is hard to know. "There is so much going on that it gives the feeling that everything is starting to unravel," says a Western diplomat in Damascus.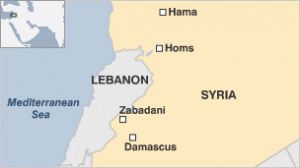 A year ago Syria could call itself the safest country in the region. But since the start of the uprising in March, the regime has presided over rising violence. It appears readier than ever now to employ heavy weapons and kill indiscriminately.
The regions surrounding Idleb and Homs are the bloodiest. In the hills close to Kafer Oweid, a hamlet some 25 miles from Idleb, more than 100 civilians and defecting soldiers, as well as some regime men, were killed on December 19th and 20th. Tanks sent mortars through the walls of houses. Corpses of fleeing villagers littered the nearby orchards. Some of the dead had their hands tied behind their backs. Witnesses describe an imam bayoneted in the throat after pleading with attacking soldiers to stop the massacre.
Sectarian rifts appear to be intensifying in these areas. The security forces are dominated by members of the Alawite sect. The battered Sunni majority has on occasion taken indiscriminate revenge, although many activists have shown remarkable patience and remained peaceful in the face of the regime's onslaught. But a growing number are viewing an armed struggle as the only way out.
The majority fighting on the opposition side are defectors calling themselves the Free Syrian Army. Their leaders claim to command up to 15,000 men, though outsiders believe there may be no more than 7,000. Most fight in autonomous groups. Activists say frustrated civilians are increasingly joining in. Most of them have only basic military training. This has resulted in mishaps: having procured two rockets to target a police station, a group fired one over its roof and the second into a tree.
Still, army defectors and civilian volunteers are becoming increasingly audacious. They have repeatedly picked off government snipers and security chiefs at checkpoints. The regime says it has lost 2,000 men so far. The UN talks of more than 5,000 dead civilians.
Activists shake their heads in dismay at their weakening control of the street; imams preaching non-violence may be the last barrier holding back a surge to arms. "Many people are just waiting to be told they can fight back," says a young professional from Homs. Protesters now chant slogans celebrating defectors rather than the divided political opposition. A minority of groups have started openly to advocate armed struggle. "The people want Jihad" is a new slogan being discussed.
The rebels are, however, still poorly armed. Until now, they have been relying on equipment from rogue regime soldiers. But arms dealers and smugglers are seeing a sharp increase in demand. "A gun that cost $800 a year ago now costs $3,000," says a volunteer fighter in Homs. In Idleb some groups have attacked regime bases in search of weapons. A university student-cum-rebel in Deir ez-Zor, the eastern oil province, says locals have received weapons from Sunnis in Anbar province across the border in Iraq eager to see Mr Assad's demise. A handful of battle-hardened Libyan youths spoiling for a new fight have also shown up.
Economist