STL: New evidence against the 4 indicted Hezbollah members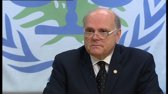 The prosecutor of the Special Tribunal for Lebanon (STL), Daniel Bellemare, arrived in Beirut on Tuesday evening, National News Agency reported.
In a related development Head of STL's Defense Office, Francois Roux said on his twitter page that more evidence has surfaced since last June , against the 4 Hezbollah members who were indicted in the 2005 murder of former PM Rafik Hariri .
The four Hezbollah members have been at large since June 28, 2011, when the counts against them were confirmed by the pre-trial judge and arrest warrants issued accordingly.