Head of Syrian Red Crescent killed, as GCC observers quit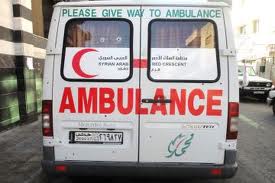 Observers from Gulf Arab states left Syria on Wednesday after their governments said they were "certain the bloodshed and killing of innocents would continue," and the Arab League pursued U.N. support for a plan to end President Bashar al-Assad's rule.
But their colleagues in Damascus pledged to pursue the League's monitoring mission, now extended until February 23, to verify Syria's compliance with an earlier Arab peace plan.
"The departure of the GCC (Gulf Cooperation Council) countries will not have an impact on the mission's work. We are all professionals here and we can do the job," said a senior Arab monitor, who asked not to be named.
"We were around 170 or so and now with them leaving we are around 120," the monitor said. "We need more monitors of course and more will come soon to replace those who left."
This came as bloodshed continued across the country, with reports that the head of the Syrian Red Crescent had been killed.
Monitors from Kuwait, the United Arab Emirates and Bahrain left the Syrian capital and those from other Gulf states were expected to follow suit soon.
Arab League chief Nabil Elaraby and Qatari Prime Minister Hamad bin Jassim al-Thani, who heads the League's committee on Syria, wrote jointly to U.N. Secretary General Ban Ki-moon setting out the plan for a political solution in Syria.
The letter asks for a "joint meeting between them in the U.N. headquarters to inform the Security Council about developments and obtain the support of the Council for this plan," a League statement said.
Several diplomats at the United Nations said France and Britain were working with Qatar and other Arab delegations on a new draft resolution supporting the Arab League plan.
"The U.N. Security Council must support the Arab League's courageous decisions which are trying to end the repression and violence in Syria and find a solution to the political crisis," French Foreign Ministry spokesman Bernard Valero said.
"Our aim is to get a resolution approved."
He said the talks should enable the Security Council to support and enforce the Arab plan by giving it the necessary international guarantees for it to be implemented.
Russia's Foreign Minister Sergei Lavrov said his country, which holds a veto in the U.N. Security Council, remained opposed to sanctions on Syria and reiterated its opposition to military intervention.
Syrian opposition groups have accused the observer mission, which began on December 26, of giving Assad diplomatic cover to pursue a crackdown on protesters and rebels in which more than 5,000 people have been killed since March, by a U.N. tally.
The British-based Syrian Observatory for Human Rights said seven people were killed on Wednesday, including one killed by soldiers surrounding the Bab Qabli district in the central city of Hama and a woman who died after a shell landed on her house near the town of Qusair, 10 km from the Lebanese border.
The head of the Syrian Arab Red Crescent in the northern town of Idlib was shot dead on Wednesday, the International Committee of the Red Cross (ICRC) said.
"We just learned a few minutes ago of the death of Mr. Abdulrazak Jbero, head of the Syrian Arab Red Crescent branch in Idlib. Mr. Jbero was on his way by car from Damascus to Idlib. He was shot. Circumstances are still unclear," Beatrice Megevand-Roggo, head of ICRC operations for the Near and Middle East, told Reuters.
"Regardless of the circumstances, the ICRC condemns this very severely," she said. "The lack of respect for medical services is still a great issue in Syria."
Jbero, a Syrian national, served as first president of the country's Red Crescent society, an ICRC spokesman said.
The government says it is fighting foreign-backed Islamist "terrorists" who have killed 2,000 soldiers and police. State news agency SANA said 30 more were buried in the last two days.
The revolt in Syria was inspired by other uprisings that have toppled three autocratic Arab leaders over the past year and the bloodletting has battered Assad's standing in the world.
The Arab League has suspended Syria's membership and Iran, at loggerheads with Western powers over its disputed nuclear ambitions, is among Assad's few remaining allies.
Foreign Minister Walid al-Moualem wrote to the Arab League accepting an extension of the monitoring mission, even as he scornfully rejected the 22-member body's call for Assad to hand power to his deputy and allow a new unity government to prepare for parliamentary and presidential elections.
"TO THE MOON"
"Definitely the solution in Syria is not the solution suggested by the Arab League, which we have rejected. They have abandoned their role as the Arab League and we no longer want Arab solutions to the crisis," Moualem declared on Tuesday.
"Heading to the Security Council will be the third stage in their plan, and the only thing left is the last step of internationalization," he told a news conference in Damascus.
"They can head to New York or to the moon. So long as we are not paying for their tickets it is none of our concern."
Moualem poured contempt on the League's call for Assad to hand power to a unity government to defuse the violence.
He said that while "half the universe is against us," Syria's long-time ally and arms supplier Russia, which wields a veto on the Security Council, would never permit foreign intervention. "That is a red line for them."
Britain, France and the United States chastised Moscow on Tuesday for continuing to arm Syria despite the upheaval there.
The United States and their European allies have called for a U.N. arms embargo and other sanctions against Syria, but Russia vehemently opposes Security Council action.
RUSSIAN SUPPORT
Russia said on Wednesday it would consider "constructive proposals" to end bloodshed in Syria but was opposed to force or sanctions, as regime troops reportedly pounded the protest hub of Hama.
"We are open to constructive proposals that go in line with the set task of ending violence," Foreign Minister Sergei Lavrov said in Moscow after meeting his Turkish counterpart Ahmet Davutoglu.
Lavrov said any UN Security Council resolution backed by Russia "must firmly record that it cannot be used or interpreted to justify anyone's outside military intervention in the Syria crisis."
His comments came after Russian and US officials held talks in Moscow on how to stop the violence in Syria, which the United Nations estimates has killed more than 5,400 people since it erupted in mid-March.
Russia and China both blocked a previous Western attempt to have the Security Council formally condemn Syrian President Bashar al-Assad's crackdown on dissent and impose stiff sanctions if he refuses to enter direct talks.
According to diplomats at the United Nations, European and Arab nations are in the process of hammering out a Security Council draft resolution condemning the crackdown.
Syria's Foreign Minister Walid Muallem on Tuesday warned against foreign "interference," which he said Russia, a Cold War ally with a naval base at Tartus on the country's Mediterranean coast, would never accept.
Muallem said Damascus had no choice but to confront armed groups and delivered a stinging attack on the Arab League after its weekend call for Assad to hand over power to his deputy and clear the way for a unity government.
"Enough of the Arab solutions from now," he said on Tuesday, accusing the Arabs of "plotting" to internationalise the crisis and taking decisions in the knowledge Damascus would reject them.
Western governments have capitalised on the Arab League's tough new stance to launch another drive for UN Security Council action despite resistance from Beijing and Moscow.
According to diplomats, European and Arab nations want a vote early next week on a resolution condemning the Syrian crackdown and hinting at sanctions against Assad's regime.
A first draft of the new resolution, obtained by AFP, notes Arab League sanctions ordered against Syria and "encourages all states to adopt similar steps and fully to cooperate with the League of Arab States in the implementation of its measures."
Russia's Lavrov made it clear on Wednesday that any resolution hinting at sanctions would be opposed by Moscow.
"We will not be able to back proposals under which unilaterally imposed sanctions against Syria — sanctions that were declared without any consultations with Russia or China … are blessed retroactively," he said.
Syria's Muallem on Tuesday informed Arab League chief Nabil al-Arabi Damascus agreed to extend the group's observer mission for one month, until February 23.
And in a meeting Wednesday with the mission's head, General Mohammed Ahmed Mustafa al-Dabi of Sudan, Muallem assured Syria's "full engagement" with the observers, SANA news agency reported.
The decision came after the six-nation Gulf Cooperation Council withdrew its monitors and called on the UN Security Council to take "all needed measures" to press Syria to implement the Arab League decisions.
Damascus signed up to a League peace plan last year that calls for the withdrawal of troops from population centres, the protection of civilians, the release of detainees and the opening of negotiations with the opposition.
But critics say there has been little tangible progress.
On the ground, meanwhile, activists said the Assad regime's security forces were pounding the central protest city of Hama for the second straight day on Wednesday.
"The Syrian army is bombarding Hama with heavy weapons, using rocket-propelled grenades," said a statement from the Local Coordination Committees, which organises anti-regime protests on the ground.
"The 'shabiha' (regime militiamen) and security agents backed up by tanks are pounding all parts of the Bab Qibli neighbourhood," said the LCC.
"There will be dead and wounded. Houses have collapsed," it said, adding about 4,000 soldiers supported by tanks were in the rebel town 210 kilometres (130 miles) north of Damascus.
The Syrian Observatory for Human Rights said three civilians were killed on Wednesday in Hama. It said six other civilians were killed in Damascus and Homs, including a mother and her 5-year-old child.
The Observatory said 33 civilians were killed by fire from the security forces nationwide on Tuesday and another 19 dead in Homs city after two bombarded buildings collapsed and burned.
Syria's Al-Watan newspaper, which is close to the authorities, said on Wednesday the military had launched an offensive aimed at retaking several districts in Hama that were controlled by insurgents.
"The competent authorities have decided to resolve the matter in a definitive manner in order to relieve the city of armed militias," it said.
Reuters