Lebanon president rejects Soleimani's statement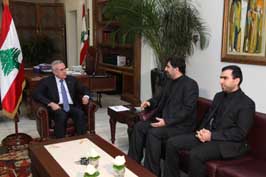 Lebanon President Michel Suleiman sent a message to his Iranian counterpart Mahmoud Ahmadinejad on Monday expressing Lebanon's keenness on the establishment of bilateral ties with a friendly state based on mutual respect and noninterference in internal affairs.
A statement issued by the presidential palace, said Suleiman discussed with Iranian ambassador Ghazanfar Roknabadi the latest controversial remarks of the commander of Iran's Quds Force, Brig. Gen. Qasem Soleimani …..who was quoted by Al-Arabiya television as saying last Friday that" Iraq and Hezbollah-dominated South Lebanon "submit" to Tehran's wishes in one way or another. "
Roknabadi reiterated to Suleiman the clarifications of the Iranian foreign ministry, the Baabda palace statement said.
In the light of the Iranian foreign ministry's clarification and refutation of the reported statements, the president asked Abadi to "convey to Iranian President Mahmoud Ahmadinejad Lebanon's keenness on bilateral relations with brotherly countries on the basis of mutual respect of both countries' sovereignty." The statement added
March 14 leaders were outraged by the remarks made by Suleimani. They demanded that Hezbollah clarify Suleimani's statement.
Al-Mustaqbal movement MP Nohad al-Mashnouq urged Prime Minister Najib Miqati on Sunday to cut off diplomatic ties with Tehran to protest Soleimani's remarks.