Assad to be driven out within three months, says Syrian MP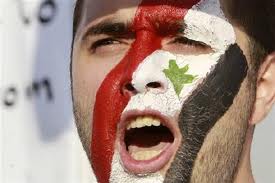 Syria's President Bashar al-Assad will be driven from power within three months, an MP for the embattled city of Homs told The Daily Telegraph on Tuesday.
Imad Ghalioun, who defected from the regime and landed in Cairo on Sunday, claimed the situation in the city was "more difficult than anyone can imagine". But he also said in an interview that the crisis was destroying the regime from within.
"Economically speaking the regime can't hang on longer than two months, politically speaking it can't stay longer than two months," he said. "My estimate is that the regime would collapse in maximum three months."
Mr Ghalioun was speaking as clear battle lines were being drawn both inside Syria and outside. Mr Assad's hardline speech last week in which he promised to use an "iron fist" against the "terrorists" who opposed him has triggered fresh talk of military intervention.
Diplomats and even opposition activists acknowledge that the balance of power inside the country remains firmly in Mr Assad's favour, with defectors to the Free Syrian Army a small proportion of the regime's military strength.
In what some might say was a sign of desperation, the FSA, which is now in regular contact on tactics with the Syrian National Council, issued a statement on Monday night calling for United Nations intervention under "Chapter 7", which allows for military action.
However, it is also clear that the regime's capacities are being slowly degraded. An economic crisis as foreign investment has fled, combined with sanctions, has hit power supplies and raised prices in the shops.
Meanwhile, in some cities, notably Homs but also smaller towns such as the resort of Zabadani near the Lebanese border, rebels have been able to seize and hold on to territory against military shelling for several days.
The rebels are also striking against regime troops more boldly, to lethal effect. A brigadier-general, Mohammed Abdul-Hamid al-Awad, was shot dead on Monday, while a rocket attack on Tuesday killed an officer and five of his men at a checkpoint near Damascus, the state news agency reported.
Russia, which has rejected all forms of intervention against its closest Middle East ally, has now presented a resolution condemning both regime and opposition for violence, but it is unlikely to proceed as it fails to suggest a solution.
Much will depend on the hearing the Arab League will give on Saturday to its peace monitors, who are due to complete the first stage of their investigation this week, and whether it seeks to force the issue at the United Nations itself or merely extend its mission.
Although Qatar has called for Arab troops to be sent in, western nations have made clear that even if they intervened, it would only be with Arab League and United Nations backing.
On Tuesday, a renewed assault in Homs, including the use of tank rounds, killed eight people – a sign not only of the regime's violence but of the continued resistance of defenders.
Mr Ghalioun said: "The situation in Homs is more difficult than anyone can imagine. The shooting is going on, and no one can even leave their homes to purchase what they need. The situation is inhumane."
He said he was moving to Cairo because he could only represent his constituency from outside Syria. "We can't express our position in Syria," he said. "We can't even help the people, which is supposed to be my role as a member of parliament."
Telegraph