Captain arrested After Cruise Ship Capsizes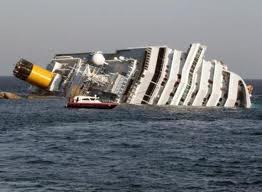 The captain and first officer of a cruise liner that ran aground off the coast of Italy are being held on suspicion of multiple manslaughter and abandoning ship while passengers were still in danger.
Three people are known to have died and around 40 others are still unaccounted for after the ship, which was carrying thousands of passengers, including British holidaymakers, apparently struck a rock.
A man and a woman were reportedly later found alive on the vessel by firemen.
Rescuers managed to speak to them but had not yet reached them as they were stranded two decks below on the half-submerged ship.
Survivors of the disaster have described chaotic scenes "like something out of the Titanic" as the Costa Concordia tilted and started to sink.
Pictures showed a massive gash in the hull more than 150ft (45m) long. There was a huge rock embedded in the side and the liner was on its side.
The dead have reportedly been identified as two French passengers and one Peruvian crewman.
One of the victims was a man aged in his 70s who is thought to have died of a heart attack caused by the shock of the icy water when he dived in during the chaos.
A further 14 people were injured, mostly suffering bruises, authorities said.
Divers searched the vessel's submerged part as a coastguard official said some people missing may be trapped inside "the belly of the ship".
Costa Cruises told Sky News the 37 Britons onboard – 25 passengers and 12 crew members, mainly entertainers – were rescued.
But the UK ambassador to Italy, Christopher Prentice, said officials have not yet confirmed the whereabouts of all British citizens.
A major rescue operation was launched after the liner, which was carrying 4,234 people, began sinking near the island of Giglio, off the Tuscan coast, late on Friday – just two hours after it started its voyage.
The captain, Francesco Schettino, then gave the order to abandon the 290m-long ship with seven short whistles.
Maritime officials were questioning Capt. Schettino about the incident as it emerged he was at least four miles off course.
Local prosecutor Francesco Verusio confirmed the captain and the ship's first officer Ciro Ambrosio had both been detained in custody.
Mr Verusio added that the Costa Concordia had approached Giglio "the wrong way" and had struck a reef on its left hand side causing it to take in an "enormous amount of water in a matter of minutes".
Sources in the prosecutor's office said the 52-year-old captain from Naples had abandoned the ship at "around 23.30" while the last passengers were not taken to safety until 3am the following morning.
There have been claims from furious passengers that the evacuation was "chaotic" and carried out amid scenes of panic with some comparing it to the Titanic – whose 100 year anniversary is in three months' time.
Capt. Schettino told maritime investigators that charts showed he was in waters deep enough to navigate and that he had struck an unidentified rocky outcrop of the island.
He said once he realised the extent of the damage he immediately tried to change route and head for the safety of Giglio harbour.
However within minutes, the Costa Concordia began to list and a few hours later it was virtually on its side.
Capt. Schettino was quoted by Italian news sources as saying: "The area was safe, the water was deep enough.
"We struck a stretch of rock that was not marked on the charts. As far as I am concerned we were in perfectly navigable waters."
Five helicopters and nearby ships plucked people to safety after they became trapped on the ship when it listed so badly they could not launch lifeboats.
Chief executive of Costa Cruises, Gianni Onorato, said the liner hit a rock and then the captain "decided to bring the ship to safety before ordering its evacuation".
He added: "Unfortunately, the fast tilting of the vessel interrupted the evacuation by the use of lifeboats.
"That's when events started escalating and that required the Italian coast guard to intervene, this and the rescue operations were handed over to the authorities."
As the ship began to list heavily to one side, coastguards were immediately dispatched to the scene while terrified passengers were ordered to put on lifejackets and man lifeboats.
Helicopters, coastguard vessels and passing ships were used in the evacuation but many people jumped into the icy seas once the order to abandon had been sounded and some were injured after spending several minutes in the water.
One Italian passenger, who would only give her name as Silvano who was on board with her boyfriend Ignazio, said: "There was just complete and utter chaos and panic. No-one from the crew seemed to know what they were doing. It was just like something from the Titanic.
"Some of the crew were telling us to go back to our cabins while others were saying go to the lifeboats – it was obvious we were in serious trouble because we heard a terrible scraping noise, the lights flickered and then came back on again.
"At first, there was a message to say it was an electrical fault but almost immediately the ship started to lean to one side and you could tell we were in serious trouble. We were in the restaurant and everything just started sliding off the tables.
"We couldn't believe our eyes. There was just utter chaos people were rushing about and pushing each other in a panic. Children were crying and no-one seemed to know what was happening. We got into a lifeboat and were taken to Giglio but even there things were not much better as no-one gave us a hot drink or a blanker for ages."
Another passenger Antonietta Simboli, from Latina near Rome, said: "We were sitting at our dinner table when there was a loud bang and things just flew off the table.
"The lights went off and then came back on again and then everyone just started scrambling over each other to try and get a life vest or to the life boats. People were trampling over each other and children in the chaos."
The Costa Concordia had left the port of Civitavecchia at 7pm local time on Friday and was sailing to Savona, its first port of call, when disaster struck at around 9pm.
Costa Cruises confirmed that about 3,200 passengers – 52 reportedly children under the age of six – were onboard along with around 1,000 crew members.
Philip Metcalfe, the British father of one of the ship's crew, told Sky News how he was relieved to hear from his daughter, who is a dancer onboard, to say she was OK.
He said she had described "pretty chaotic" scenes as people went into a panic – and how she had to use a fire hose to escape.
Many of the passengers and crew were taken to the mainland port of Porto Santo Stefano where they are staying in schools, churches and other public buildings.
Survivors far outnumbered Giglio's 1,500 residents, and island Mayor Sergio Ortelli issued an appeal for islanders – "anyone with a roof" – to open their homes to shelter the evacuees.
sky.com