US rescued six more Iranian seamen , report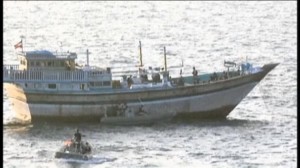 A US ship on Tuesday rescued six Iranian seamen in the Gulf after their vessel broke down, the Pentagon said, in the latest such gesture despite soaring tensions between Washington and Tehran.
At least one of the Iranians suffered burns from a fire on board the troubled ship and is receiving treatment from the US Coast Guard, Pentagon spokesman George Little told reporters.
Little said it was not immediately clear how the Coast Guard cutter would return the Iranians.
The U.S. Navy on Friday also rescued 13 Iranian seamen who were being held captive by Somali pirates in the Gulf of Oman.