March 14 leaders decry Assad's speech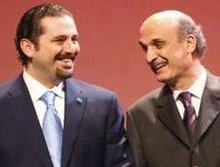 March 14 leaders were quick to criticize Syrian President Bashar Assad's Tuesday speech . Lebanon,s Former Prime Minister Saad Hariri labeled Assad's Tuesday speech "ridiculous" , while Lebanese Forces leader Samir Geagea said Assad addressed everything but the country's crisis.
Hariri wrote to one of his followers on Twitter about his opinion on Assad's speech: "It's actually ridiculous." Assad "is in self-denial," he stressed.
Hariri said that Assad's speech resembled his previous ones since unrest gripped Syria in mid-March.
"[It's the] same old thing, it's all a conspiracy," Hariri tweeted.
Geagea told reporters in Maarab: "Assad depicted a status quo that has nothing to do with the reality on the ground."
Geagea also slammed Assad's claim of a conspiracy against his country:
" I don't understand how a conspiracy can mobilize hundreds of thousands of protesters since the beginning of the revolt." He said
"How can over 10,000 Syrians be killed just because they are alleged foreign agents?" Geagea wondered.
"If the developments in Syria truly are a conspiracy, then it could have been resolved simply by holding a poll, under the United Nations' supervision, to determine whether the people support Assad or not," Geagea remarked.
"Only then can Assad's claims of a conspiracy be verified," he stressed.
Assad vowed Tuesday to respond to threats against him with an "iron hand" and refused to step down, insisting he still has his people's support despite the 10-month-old uprising against him.
In his first speech since June, Assad repeated claims that a foreign conspiracy and terrorists are behind the unrest — not true reform-seekers.
"Our priority now is to regain security which we basked in for decades, and this can only be achieved by hitting the terrorists with an iron hand," Assad said in a nearly two-hour speech at Damascus University.