Ahmadinejad, Chavez Joke About Love & Nukes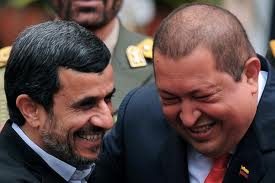 Venezuelan President Hugo Chávez and Iranian President Mahmoud Ahmadinejad sarcastically addressed America's growing concern over Iran's nuclear program referring to themselves as "devils" whose love for one another would fuel their "a-bomb."
Ahmadinejad defended his country's nuclear program as he began a four-nation tour of Latin America, joining his ally Chávez in accusing the U.S. and its allies of using the dispute to unjustly threaten Iran.
Both leaders dismissed U.S. concerns about Iran's intentions in the Middle East and its growing diplomatic ties with Chávez and his allies in Latin America.
"They accuse us of being warmongers," Chávez said. "They're the threat."
Both leaders planned to travel to Nicaragua on Tuesday for the inauguration of newly re-elected President Daniel Ortega, and then Ahmadinejad will also visit Cuba and Ecuador.
The Iranian leader is using the visit to tout relationships with some of his close friends shortly after the U.S. imposed tougher sanctions on Iran over its nuclear program.
Washington and other governments believe Iran is using the nuclear program to develop atomic weapons. Chávez and his allies back Iran in arguing the program is purely for peaceful purposes.
Chávez accused the U.S. and its European allies of demonizing Iran and using false claims about the nuclear issue "like they used the excuse of weapons of mass destruction to do what they did in Iraq."
Ahmadinejad dismissed the accusations about Iran's nuclear program in general terms.
"They say we're making (a) bomb," the Iranian leader said through an interpreter. "Fortunately, the majority of Latin American countries are alert. Everyone knows that those words … are a joke. It's something to laugh at."
"It's clear they're afraid of our development," Ahmadinejad said.
Adding to the U.S.-Iran tensions, Iranian state radio reported Monday that a court in Iran convicted dual U.S.-Iranian citizen Amir Mirzaei Hekmati of working for the CIA and sentenced the former Marine to death. Neither Chávez nor Ahmadinejad referred to the case.
They joked that their relationship shouldn't cause any concern. Ahmadinejad said if they were together building anything like a bomb, "the fuel of that bomb is love." Chávez played on the same theme, saying Iran has been helping manufacture an "atomic bicycle" at a plant in the country.
The Venezuelan leader said Iran's assistance has helped his country build 14,000 homes as well as factories that produce food, tractors and vehicles. Government officials signed two agreements promoting industrial cooperation and worker training.
Chávez said both Venezuela and Iran are peaceful countries that weather a battery of suspicion and accusations by critics.
"When we devils get together … it's like they go crazy," Chávez said.
Laughing, Chávez said Ahmadinejad is traveling through "the axis of evil of Latin America."
Iran finds itself under increasing pressure in the standoff over its nuclear program, and in response to the latest U.S. sanctions has threatened to blockade the Strait of Hormuz, an important transit route for oil tanker shipments.
The U.N. nuclear agency on Monday confirmed that Iran has begun enriching uranium at an underground bunker to a level that can be upgraded more quickly for use in a nuclear weapon than the nation's main enriched stockpile. That development has increased fears among U.S. and European officials about Iran's nuclear ambitions.
Beyond voicing criticism of the U.S. on his tour, Ahmadinejad is also likely to look for ways to use his Latin American alliances to diminish the impact of sanctions on Iran's oil industry, said Diego Moya-Ocampos, an analyst with consulting firm IHS Global Insight in London.
However, Moya-Ocampos predicted that "Venezuela is going to be very careful not to push its relationship with Iran beyond the U.S. tolerance limits," so as not to risk being hit with more U.S. sanctions.
Last year, the U.S. imposed sanctions on state oil company Petroleos de Venezuela SA for delivering at least two cargoes of oil products to Iran.
Venezuelan Oil Minister Rafael Ramirez told reporters the government had not made any oil-related agreements with Iran.
Asked about the sanctions against Iran and its threats to block the Strait of Hormuz, Ramirez said OPEC, to which both countries belong, could not get involved in the issue.
"Any action that Iran takes in defense of its sovereignty is a matter of Iran," Ramirez said.
foxnews/ AP