13 more deaths reported in Syria. Homs under siege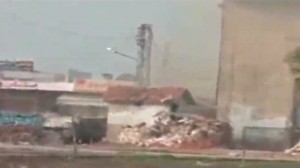 On the eve of the planned arrival of Arab League observers, 13 people died and scores were injured in volatile Syria on Sunday, according to the opposition movement.
Activists described worsening conditions in cities and towns amid what they called an intensifying government offensive. This comes at a time when security forces and allied militia fighters are supposed to be withdrawing in order to end the violence involving more than nine months of protest against the government of President Bashar al-Assad.
Abu Omar, an activist in the embattled city of Homs, told CNN on Sunday that attacks by government forces began Friday and were continuing non-stop in some besieged neighborhoods. He said the gunmen are shooting at anything and everything.
"You can't cross the street because of the snipers," Omar said. "They are cutting the electricity. Now I'm walking by a generator. There is no water or satellite phone. There is no more food and we have missing the most important thing, which is the bread. There is no more bread … for children."
The Local Coordination Committees in Syria, an opposition activist network that goes by the acronym LCC, reported 13 deaths, including three children, around the country. It said five died in Homs, where government forces have besieged neighborhoods that are hotbeds of opposition to al-Assad.
Five people were killed in the western city of Deir Ezzor and one each died in Aleppo, Hama and Nawa, said an LCC statement.
"Random shelling" and heavy gunfire by government forces in Homs injured another 30 people, with 10 houses getting burned down, the LCC said.
Another opposition group, the Syrian Observatory for Human Rights, reported 124 injured in the Baba Amr neighborhood of Homs, as well as an unverified number of deaths there.
Violence plagues Syria's Homs
According to the group, 37 security and military checkpoints have been set up in a town near Homs, and security forces arrested 26 people in another neighborhood and made them strip down to humiliate them.
Homs, Syria, is under fire
CNN cannot independently verify reports of deaths and injuries in Syria. The Syrian government has restricted access to international journalists.
Discussing Violence in Syria
The opposition Syrian National Council called for the Arab League monitoring mission to go straight to Homs after it arrives in the country Monday, citing a "tight siege and the threat of military invasion" by 4,000 soldiers in addition to "non-stop bombing" of recent days.
"We face a real threat of genocide and crimes against humanity in Homs, whose residents are calling for help and warning of the imminent danger they face if the Arab League does not immediately send its observers there," said the Syrian National Council statement.
An Arab League official, speaking on condition of not being identified by name, said "close to 50" Arab League observers will arrive in Syria on Monday, and more will follow "on a need-be basis." Overall, the total mission could total nearly 100 observers, the official said.
In addition, the head of the mission, Lt. Gen. Mohamed al Dabi of Sudan, traveled to Syria on Saturday, the official said.
The observer mission is part of an Arab League initiative that calls for withdrawing the Syrian army and militias called shabiha from towns, releasing detainees and ending all forms of violence. Syria and the Arab League signed the protocol for the observer mission last week.
Despite the imminent Arab League mission, Syrian has entered its bloodiest period in a months-long uprising, raising questions about whether the observers will be able to fulfill their mission.
Government troops shelled restive neighborhoods of Homs over the weekend, with thousands of security personnel targeting Baba Amr, said Omar from Homs and Alexander Page, speaking to CNN from Cairo, where he is in touch with people in Homs.
Another activist in Homs, Abu Salim, said at least 4,000 security personnel were surrounding Baba Amr and the number was increasing. The troops dug trenches around parts of the neighborhood, a hotbed of opposition to the al-Bashir regime.
In his Christmas message to the world on Sunday, Pope Benedict XVI prayed for "an end to the violence in Syria, where so much blood has already been shed." Diverse Syria is largely Sunni Muslim, but 10% of the population is Christian, the CIA World Factbook said.
The Christmas violence followed a day of bloodshed across the country, with the LCC saying 38 people were killed, including 25 in Homs.
Security forces shelled the neighborhoods of Baba Amr, Bayada, Khaldiyeh, and Karm Al-Zaitoun, and warplanes flew over the area, according to the LCC.
The Syrian Observatory for Human Rights said security forces assassinated Ghazi Mohammad Khaled Zugheib, former secretary general of the Homs' division of the Baath Party, and his wife, Rajaa Mohammad Khaled Bakkar. That incident occurred during a raid on their house in Baba Amr.
State-run Syrian Arab News Agency, however, blamed the killings of the two on "armed terrorist groups."
In the Baba Amr neighborhood, many of the 50,000 residents have fled out of fear or to escape worsening humanitarian conditions, Salim said.
He described a dire situation, with people targeted by government forces, if they walk outside, and supplies of vital medical services, fuel, heating oil and baby formula running low.
"We lack any sophisticated medical tool or equipment," Salim said. "… We only use first aid kits and tools to deal with bullet wounds. Most of the wounded end up dying. … We do not have enough doctors or nurses to help the injured.
The attacks in Homs came a day after dual bombings struck the country's capital, Damascus. Al-Assad's government blamed terrorists inside and outside of Syria, but the opposition called the attacks the work of the regime.
On Sunday, security forces destroyed more than 50 shops in the Damascus suburb of Douma in an attempt to break an ongoing strike, the LCC said. It also reported security forces destroying shops in the Zamalka suburb.
The United States, which has called for al-Assad to step aside and has initiated sanctions against the regime, deplored the Friday bombings, saying there was "no justification for terrorism of any kind" and expressing hope that the strike doesn't undermine the Arab League efforts.
More than 5,000 people have died since al-Assad began a brutal crackdown in mid-March on anti-government protesters calling for his ouster, the United Nations said earlier this month.
Many more deaths have since been reported. AVAAZ, a New York-based political activist group, and the LCC said more than 6,000 people have been killed.
The Syrian government has said 2,000 of its soldiers and security forces have been killed in the uprising, which it blames on "armed gangs."
The violent crackdown by al-Assad's security forces against the opposition has garnered worldwide condemnation from the European Union, the Arab League and Turkey in addition to the United States.
On Sunday, Egypt's main Islamist party, the Muslim Brotherhood, met with Russia's ambassador to Cairo to discuss the situation in Syria, according to a party official.
Esam El Arian, deputy head of the Muslim Brotherhood's Freedom and Justice Party, said Ambassador Sergei Kirpichenko "expressed his country's desire to see the Syrian civilians safe in their own country."
Russia has been a supporter of the al-Assad regime.
CNN