Flash Floods Kill at Least 450 in Philippines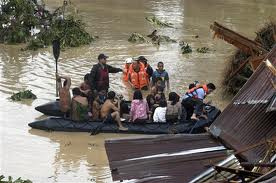 Flash floods devastated a southern Philippines region unaccustomed to serious storms, killing at least 450 people while they slept, rousting hundreds of others to their rooftops and turning two coastal cities into muddy, debris-filled waterways that were strewn with overturned vehicles and toppled trees.
With nearly 300 people missing, Defense Secretary Voltaire Gazmin and top military officials were to fly to the worst-hit city of Cagayan de Oro on Sunday to help oversee search-and-rescue efforts and deal with thousands of displaced villagers, as the weather began to clear and floodwaters receded. Among the items urgently needed are coffins and body bags, said Benito Ramos, who heads the government's disaster-response agency.
"It's overwhelming. We didn't expect these many dead," Ramos said.
Army officers reported unidentified bodies piled up in morgues in Cagayan de Oro city, where electricity was restored in some areas, although the city of more than 500,000 people remained without tap water.
Most of the victims were asleep Friday night when raging floodwaters cascaded from the mountains after 12 hours of rain from a late-season tropical storm in the southern Mindanao region. The region is unaccustomed to the typhoons that are common elsewhere in the archipelago.Ayi Hernandez, a former congressman, said he and his family were resting in their home in Cagayan de Oro late Friday when they heard a loud "swooshing sound" and water quickly rose ankle-deep inside. He decided to evacuate to a neighbor's two-story house.
"It was a good thing, because in less than an hour the water rose to about 11 feet (3.3 meters)," filling his home up to the ceiling, he said.
At least 450 people were killed in the floods, Philippine Red Cross Secretary General Gwen Pang and other officials said. At least 229 died in Cagayan de Oro and 144 in nearby Iligan, which has more than 300,000 residents. The rest died in several other southern and central provinces, Pang said.
Many of the bodies were unclaimed after nearly 24 hours, suggesting that entire families had died, she said.
The Office of Civil Defense said 274 people were missing, but Ramos said the number would likely rise as more field reports come in. So far, 437 people have been rescued.
Cagayan de Oro and Iligan were filled with scenes of destruction and desperation.
A swollen river sent floodwaters gushing through neighborhoods that do not usually experience flooding. A man floated in an inner tube in muddy water littered with plastic buckets, pieces of wood and other debris. Ten people in one home stood on a sloping roof, waiting for rescuers even as water still flooded the lower floors.
Local television footage showed muddy water rushing in the streets, sweeping away all sorts of debris. Thick layers of mud coated streets where the waters had subsided. One car was thrown over a concrete fence and others were crushed and piled in a flooded canal.
Ramos attributed the high casualties in Mindanao "partly to the complacency of people because they are not in the usual path of storms" despite four days of warnings by officials that one was approaching.
Thousands of soldiers backed up by hundreds of local police, reservists, coast guard officers and civilian volunteers were mobilized for rescue efforts, but they were hampered by the flooded-out roads and lack of electricity.
AP, ABC