Aoun held talks with Suleiman at Baabda palace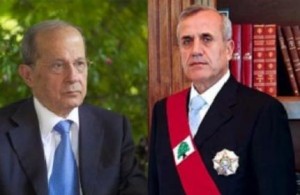 Free Patriotic Movement leader MP Michel Aoun held talks on Saturday with President Michel Suleiman at the Baabda presidential Palace, National News Agency reported.
Suleiman and Aoun are reportedly bickering over the appointments of top civil servants to administrative posts that are reserved for the Christians, According to local reports.
The main conflict centers around the post of the presidency of the Higher Judicial Council.
Both have reportedly rejected each other's proposed candidates for the post, the reports said.