United Nations urges world to help the Syrian people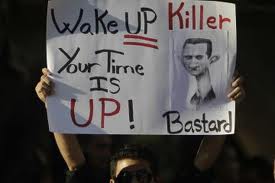 UN chief Ban Ki-moon has urged world powers to act as a US official likened the Damascus regime to a "dead man walking".
Activists said Syrian forces killed another 21 civilians on a day when the US State Department's special co-ordinator on Middle East affairs Frederic Hof told US politicians that "change is surely coming to Syria".
At a news conference in New York today, the UN secretary-general said the status quo in Syria – where security forces reportedly shot dead civilians, cut power lines and conducted raids and arrests – "cannot go on".
"In the name of humanity, it is time for the international community to act", Ban told reporters.
He said he had sent a UN Human Rights Council report on President Bashar al-Assad's crackdown to the Security Council, which could increase pressure on it to act against Syria, where crimes against humanity may have been committed.
Washington levelled tough rhetoric against both Assad's regime and Security Council members who have blocked UN action.
"It is difficult to predict how much time they have," Hof said in a hearing on US policy toward Damascus, referring to Assad and his loyalists.
He also said it was vital for UN Security Council efforts to protect Syrians from Assad's security forces, calling on Russia, China and India to stop opposing UN action.
In October, Russia and China blocked a resolution condemning Assad and Moscow said the West was pursuing an agenda of "regime change" by putting pressure on Damascus, but not on armed groups.
Hof said that Moscow must be convinced that its support for Assad "is not only helping to facilitate a humanitarian catastrophe, but it is manifestly not in the interests of the Russian Federation because change is surely coming to Syria".
"Our view is that this regime is the equivalent of dead men walking," Hof said.
On the ground, the Britain-based Syrian Observatory for Human Rights said 21 civilians were shot dead by security forces across the country, including 11 in Homs, north of Damascus.
Other fatalities were reported further south in Homs, in the northwestern province of Idlib and in Damascus province.
Meanwhile, the observatory said "at least eight soldiers were killed in an ambush on four military jeeps travelling in the village of Al-Asharna on the outskirts of (the central city of) Hama."
Today's ambush on troops was the second such insurgent attack in as many days.
"Heavy gunfire was heard in the town of Hirak," also in Daraa, cradle of the revolt against Assad's 11-year rule, which came under assault by military forces backed by tanks and troop carriers, said the rights group.
In Douma, to the north of Damascus, phone lines were completely cut off at dawn, while heavy gunfire could be heard near a state security office.
Observatory reports could not be independently verified as most foreign reporters cannot enter or move freely in Syria.
Today's violence spilled over into neighbouring Lebanon, with 10 people, including a nine-year-old child, wounded in two separate shootings at the border, an official and a medical source said.
Meanwhile, a civil disobedience campaign was observed in parts of Syria, including Hama and Homs, Idlib and Daraa, activists said.
The strike, which began on Sunday, aims to "deprive the regime of the financial means it is using to kill our children".
Herald Sun