The new wages will increase inflaction by 2 %, Salameh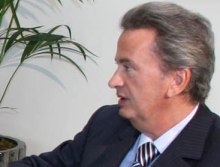 Central Bank Governor Riad Salameh told As Safir newspaper in a report published on Monday that the recently announced wage hikes will increase inflaction by 2 percentage points
The Lebanese cabinet on Wednesday approved the wage increase plan that was proposed by PM Nagib Mikati
On Wednesday, According to the Information Minister Walid al-Daouq the minimum wage was raised to 600,000 LL, while wages between 500,000 LL and 1 million LL where raised by 30 percent on the condition that the increase is minimum 150,000 LL and maximum 200,000 LL.
As for wages exceeding 1 million LL, the cabinet agreed to a 20 percent raise as long as the increase does not exceed 275,000 LL.
Head of the General Workers Union Ghassan Ghosn told OTV television on Thursday evening that the wage increase approved by the government "was unfair" to the workers.
"We reject this humiliating wage increase because it doesn't meet the hopes and expectations of the workers and their demands," he also told An Nahar newspaper.
A strike is reportedly planned between Xmas and New Year
Moody's Investors Service lowered last week its outlook on Lebanon's banking system to negative from stable, citing slowed economic growth and regional political uncertainty.