SKeyes condemns violations against free speech in Lebanon, Syria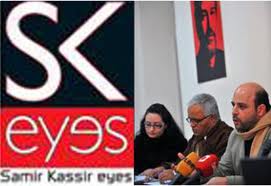 The Samir Kassir Eyes Center for Media and Cultural Freedom (SKeyes) condemned the November violations against free speech in Syria and Lebanon in its monthly report issued Monday.
The organization said that in Lebanon Future News cameraman Mahmoud Badran was harassed on November 1, while an Al-Arabiya reporting crew was detained for three hours on November 19.
SKeyes also cited several violations in Syria, where the regime has violently cracked down on pro-democracy movements since mid-March and killed over 4,000 people.
According to the organization's report, Syrian forces "murdered photographer Farzat Jerban and threw his body on the side of the highway, after severely torturing him and ripping out his eyes."
The report added that "Syrian authorities arrested the Syrian Arab News Agency (SANA) bureau chief in Deir az-Zour, Alaa Al-Khodor, after his resignation in protest over the regime's actions towards civilians."
SKeyes also said that Syrian forces raided a gallery in Soueida , capital of the Druze stronghold in Jabal Arab and burned the books and damaged artwork displayed inside it
"The disappearance of Syrian directors Nidal Hassan [on November 3] and Firas Fayad [on November 30] in mysterious circumstances in Damascus features prominently in the long list of violations perpetrated in Syria." SKeyes added
SKeyes was named after Samir Kassir a former Lebanese professor of history at Saint-Joseph University and journalist. A prominent left-wing activist, he was a strong advocate of freedom for the Palestinians, democracy in Lebanon and Syria and a vocal critic of the Syrian presence in Lebanon. He was assassinated on 2 June 2005 and his murderers remain unknown. Syria was accused of being behind his assassination Kassir was a keen advocate of secular democracy in the Middle East.
Now Lebanon