Billionaire Prokhorov to Challenge Putin for Russian Presidency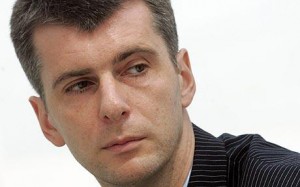 Billionaire Mikhail Prokhorov said he'll run for president against Prime Minister Vladimir Putin in March elections after the biggest anti-government demonstrations in a decade emboldened Russia's opposition.
"This is the most important decision of my life," the New Jersey Nets basketball team owner told reporters in Moscow.
Prokhorov, Russia's third-richest man with a fortune Forbes magazine put at $18 billion, quit as leader of the Pravoye Delo, or Right Cause, party on Sept. 15, accusing President Dmitry Medvedev's administration of blocking the group's preparations for parliamentary elections in December.
That Dec. 4 vote, in which Putin and Medvedev's United Russia party retained its majority, was neither free nor fair, observers from the U.S. and Europe said. Thousands of Russians took to the streets in the week after the contest to protest the results amid widespread reports of ballot-stuffing.
Prokhorov may have the support of ousted Finance Minister Alexei Kudrin, who told the Vedomosti newspaper in an interview published today that he supports the creation of a new right-of- center party. Kudrin was the second longest-serving minister in the government when he resigned Sept. 26, citing disagreements with Medvedev over spending policy.
Putin, Khodorkovsky
Medvedev yesterday ordered an investigation into the allegations of fraud in the parliamentary elections, a day after more than 25,000 people gathered in the center of Moscow in near-freezing temperatures to protest the outcome, according to police estimates. Several thousand more rallied in St. Petersburg and other major cities.
The swelling resentment threatens to weaken Putin's bid to return to the Kremlin for another six years. He served the maximum two-consecutive terms from 2000 to 2008, when he stepped aside in favor of his protégé Medvedev, whose term ends in May. Putin said in September that he'll seek to return to the Kremlin and plans to appoint Medvedev prime minister. Parliament lengthened the presidential term to six years from four after Medvedev became president.
Prokhorov, who'll need 2 million signatures to get on the ballot, said both Putin and Medvedev declined to meet with him to discuss his presidential bid. He said that he'll spend 10 percent of his campaign criticizing Putin and the rest laying out his proposals. He said he isn't afraid of suffering the fate of jailed former Yukos Oil Co. billionaire Mikhail Khodorkovsky.
Putin is aware of Prokhorov's intention to run for president, which is the right of every Russian, said Dmitry Peskov, Putin's spokesman, Interfax reported.