Feltman urges Rai to support efforts to end Syrian regime brutality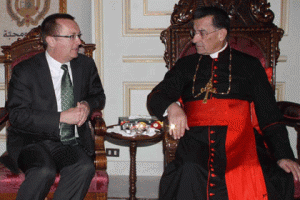 United States Assistant Secretary of State for Near Eastern Affairs Jeffrey Feltman on Thursday met with Maronite Patriarch Bechara Boutros al-Rai at Bkirki and urged him to "support international and regional efforts to end the brutality of the Syrian regime against the Syrian people.
The US envoy also reaffirmed to the Patriarch United States' firm view that Syrian President Bashar al-Assad has lost his legitimacy to lead and the best way to end the brutality is for Assad to step down.
Rai came under fire earlier in September from the opposition March 14 parties but won praise from March 8 politicians for his comments during his visit to France . "Syrian President Bashar al-Assad is open-minded and should be given more chances to implement the reforms" he announced.
He also indirectly defended Hezbollah's arms by linking the party's arsenal to the termination of Israeli occupation of Lebanese territory and the return of Palestinian refugees to their homeland . Even MP Walid Jumblatt who defected from March 14 alliance was very critical of Rai's statements."
"only when the international community exerts pressure on Israel to vacate the occupied Lebanese territory ( the Shebaa Farms, Kfar Shouba hills and the Lebanese part of the disputed border village of Ghajar ) and Israel allows Palestinians in Lebanon to return to their homes, can Hezbollah be asked to hand over its arms because they will no longer be needed." He said during his visit.
The patriarch claimed after returning to Lebanon that the remarks he made while in Paris "were taken out of context and have nothing to do" with his personal opinion, but reiterated his controversial position on Syria and Hezbollah's arms during a meeting last October with President Michel Suleiman at the Baabda palace.
Other meetings
Feltman who is on a 2-day visit to Lebanon held talks with high-ranking Lebanese officials on "the political and security situation in Lebanon, developments in Syria, and other regional issues," the US embassy said in a statement .
Feltman met with Premier Najib Mikati on Wednesday. On Thursday he met with Speaker Nabih Berri, Progressive Socialist Party leader MP Walid Jumblat, Army Commander General Jean Qahwagi, Internal Security Forces chief Maj. Gen. Ashraf Rifi, former defense minister Elias Murr and former Maronite patriarch Nasrallah Boutros Sfeir.
During his meetings, Feltman "renewed the US commitment to a stable, sovereign and independent Lebanon."
The embassy said .
He also underscored the U.S. administration's "support for strengthening Lebanon and its institutions, including the Lebanese Armed Forces, recognizing its importance in serving as Lebanon's sole legitimate defense force, securing Lebanon's borders and defending the sovereignty and independence of the state," the U.S. embassy said.
Feltman also noted the "importance of Lebanon's continued cooperation with the Special Tribunal for Lebanon ( STL) and of Lebanon's implementation of international obligations under United Nations Security Council resolutions 1559 and 1701."