Feltman met Jumblatt and other key Lebanese officials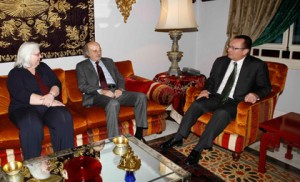 Progressive Socialist Party (PSP) leader MP Walid Jumblatt met on Thursday with US Assistant Secretary of State for Near Eastern Affairs Jeffrey Feltman, National News Agency (NNA) reported.
Feltman who is currently visiting Lebanon was accompanied by US Ambassador to Beirut Maura Connelly during his meeting with Jumblatt at his residence in Beirut.
According to a statement issued by the PSP press office Jumblatt and Feltman discussed the latest political developments in Lebanon and the Arab region
The statement also said that Jumblatt "underlined the importance of [national] dialogue as the only means to resolve controversial issues and overcome the current impasse."
Tit for tat
Baabda Presidential Palace has reportedly snubbed Feltman after the failure of President Michel Suleiman to meet with any U.S. official during his visit to New York in September.
An Nahar reported Thursday that the presidential palace refused to set a date for talks between Suleiman and Feltman as a retaliation to the failure to hold any meeting between the Lebanese head of a state and U.S. officials on the sidelines of the U.N. General Assembly last September.
Feltman held talks with PM Najib Mikati and Democratic Renewal Movement leader former MP Nassib Lahoud on Wednesday and had dinner with former Minister Michel Khoury
Feltman according to An Nahar handed Mikati a letter from Secretary of State Hillary Clinton in which, according to the newspaper, she expressed her appreciation for the premier over the transfer of Lebanon's share of funds to the Special Tribunal for Lebanon.
"I appreciate the steps that you have taken as prime minister to stress that Lebanon is committed to its international obligations," An Nahar quoted Clinton as saying in the letter.
The implementation of "Security Council Resolutions 1559 and 1701 in addition to the full cooperation with the STL fall in Lebanon's interest and contribute to regional stability," she said.
Clinton reiterated the U.S. commitment to the independence and sovereignty of Lebanon.
On Thursday, Feltman also who is the former US ambassador to Lebanon held talks with Speaker Nabih Berri and will later meet with March 14 leaders over dinner.
Lebanon's interest
Feltman said in an interview that was published on Thursday that Mikati's decision to transfer Lebanon's share of funds to the Special Tribunal for Lebanon (STL) is in the interest of Lebanon.
Feltman stressed during the interview with Al-Jumhuriya newspaper that Mikati did not decide to transfer Lebanon's share of funds to the STL to serve the interests of the US or any other country, but to serve Lebanon's interests.
Feltman also voiced confidence that Lebanon will approve the decision of the Arab League, the European Union and the United States aimed at finding peaceful ways "to put an end to the savagery in Syria."
Feltman was asked to comment about Syrian president Bashar al Assad's claim during his interview with Barbara Walters that he is not responsible for the bloodshed there Feltman said: "The arab League has offered to send observers to Syria to monitor the situation if Assad is innocent then why doesn't he allow the observers to come to Syria"
The United Nations estimates that more than 4,000 people have died as Syria cracks down on protesters, who have emerged as the greatest challenge yet to Assad amid a wave of uprisings in the Arab world that have toppled authoritarian leaders in Egypt, Libya and Tunisia.