White House says Assad is utterly disconnected from reality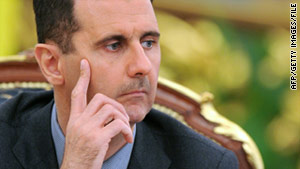 The White House on Wednesday disputed Syrian President Bashar Assad's claim in an interview with ABC News that "we don't kill our people" and laid blame for the deaths at the embattled ruler's feet.
"The increase in death and body counts this month highlights that the Syrian government relies increasingly on its security and military apparatus as its only solution in the face of increasing isolation at home and overseas," National Security Council spokesman Tommy Vietor told POLITICO in a statement when asked to respond to Assad's remarks.
He added, "Make no mistake, the increase in armed resistance is Assad's fault and Assad's fault alone."
The harsh statement follows an interview in which Assad repeatedly denied to Barbara Walters of ABC News that his government was responsible for the rising death toll in his country.
"We don't kill our people. … No government in the world kills its people, unless it's led by a crazy person," Assad said in the interview that aired Wednesday.
When Walters confronted the president with reports of Syrian civilians, including children, being tortured and killed, noting that she had seen photos, Assad responded: "To be frank with you Barbara, I don't believe you."
Pressed about a United Nations report released recently, detailing the "crimes against humanity" in Syria, Assad was dismissive, saying, "Who said that the United Nations is a credible institution?"
Vietor said Wednesday that the "atrocious level of violence" in Syria left no doubt that the Assad regime is "beyond salvation."
"We continue to heavily pressure the international community to get on the right side of history, as working toward a democratic transition in Syria is a priority to the administration," he said. "Momentum is clearly on the side of the Syrian people, as more and more countries take bold steps to isolate and pressure the Assad regime."
In a State Department briefing Wednesday afternoon, spokesman Mark Toner told reporters that Assad's denial of the violence unfolding in his country speaks to the importance of allowing international human rights monitors and the media to "report transparently" on what is happening on the ground in Syria, but he predicted, "That'll never happen."
Toner said the Syrian president "appeared utterly disconnected from reality" in the ABC interview.
"It's either disconnection, disregard, or, as he said, crazy. I don't know," said Toner. "It either says he's completely lost any power that he had within Syria, that he's simply a tool, or that he's completely disconnected from reality."