Assad says he doesn't feel guilty and is not in charge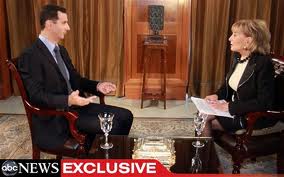 In a rare interview, Syria's Bashar al-Assad spoke to ABC News's Barbara Walters in a bid to defend himself amid growing global condemnation of the nine-month-old crackdown which the United Nations says has killed 4,000 people.
When asked whether he felt guilty about the violence and killing in his country, President Assad claimed there was no reason for remorse.
"I did my best to protect the people," he said. "I cannot feel guilty when you do your best. You feel sorry for the lives that have been lost. But you don't feel guilty when you don't kill people. So it's not about guilty."
President Assad also denied that he is responsible for the deaths, claiming that he is not in charge of the armed forces and the country does not "kill our people".