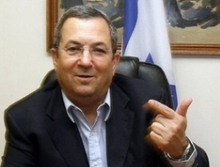 Israeli Defense Minister Ehud Barak was quoted by Israeli newspaper Haaretz as saying on Saturday that Iran is getting closer to developing a nuclear bomb, and that new and more crippling sanctions should be imposed on the Islamic Republic.
Speaking on "Meet the Press," an Israeli Channel 2 program, Barak denied however that the latest blasts that occurred in Iran mark the beginning of a military campaign. Barak said actions against Iran are being carried out in the diplomatic sphere, through sanctions and through the activities of the International Atomic Energy Agency (IAEA). When asked if a clandestine war against Iran has already begun, he replied: "I think the answer to that is no."
"Iran is getting close to the bomb, and the sanctions should be quick, focused and stronger," Barak said. "We can't wait and say – we'll see if they have a bomb, and then we'll act. What if by then we will not be able to act?"
Barak said the entire international community agrees that the diplomatic course and the use of sanctions must be exhausted, yet added that "no option should be taken off the table. Israel is responsible for its security, its future and its existence."
Haaretz
This error message is only visible to WordPress admins
Error: No connected account.
Please go to the Instagram Feed settings page to connect an account.