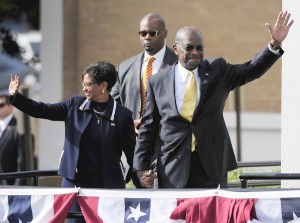 Herman Cain's unlikely and ill-fated presidential campaign proved that one rule is immutable even in this rambunctious campaign year: Political outsiders may be an attractive alternative to career politicians, but all the fresh approaches and folksy charm in the world can't make up for inexperience and untenable baggage.
Ending days of intense speculation, the Republican presidential candidate announced he would suspend his campaign, a legal maneuver that allows him to request federal matching funds. The move followed accusations of sexual harassment, groping and, this week, a 13-year affair with a woman Cain insisted was merely a friend.
"My wife, my family and I, we know that those false and unproved allegations are not true," said Cain, whose wife, Gloria, walked with him hand in hand, then stood behind him on a makeshift stage on the steps of the Atlanta headquarters Cain was to have opened Saturday. "So one of the first declarations that I want to make to you today is that I am at peace with my God. I am at peace with my wife. And she is at peace with me."
Defiant and at times angry, Cain told the crowd that his Plan A — becoming president — would have to give way to Plan B, which he described as changing Washington from the outside.
"I am not going to be silenced and I am not going away," said Cain, who thanked his supporters, acknowledged their disappointment and announced the launch of a new website, TheCainSolutions.com.
Veterans of other GOP presidential campaigns said Cain's decision was to be expected.
"He was never a serious candidate, so I can't say this was, in the end, very surprising," said strategist Mike Murphy. "I think only people with real prior experience in national politics know how tough a process it is. For others like Cain, it looks fun, but then comes the rude awakening. It's just not a business for amateurs."
Sara Taylor Fagen, a former White House political director for George W. Bush and an advisor to former Minnesota Gov. Tim Pawlenty, who dropped out of the race earlier this year, said any expectation of personal privacy is a mistake.
"There are no secrets in politics anymore," Fagen said. "If you engage in illegal activity or carry on with someone other than your spouse, don't run for president."
Though Cain retained a core of loyal supporters, many voters were put off by the accusations swirling around him. Others worried about an early stumble over his position on abortion and his lack of foreign policy experience, illustrated disastrously in a Nov. 14 meeting with the Milwaukee Journal Sentinel in which he was unable to articulate an opinion on President Obama's Libya policy.
In a poll released Friday, the Des Moines Register found that Cain was favored by only 8% of Iowa's likely caucusgoers, plummeting from the 23% support he had a month ago.
Because Cain's support was already waning, it's unclear how his withdrawal will affect the race. Many strategists expect his supporters to migrate to Newt Gingrich, the former House speaker, rather than to former Massachusetts Gov. Mitt Romney. Cain said he would soon endorse a candidate.
Several former rivals wished him well and applauded him for putting the issue of tax reform at the forefront of the GOP race. "He will continue to be a powerful voice in the conservative movement," Gingrich said.
A tea party favorite who had toured the country in support of Americans for Prosperity, the anti-tax group backed by the billionaire Koch brothers, Cain delighted in dismissing the idea that he should be liberal because he is black, offering a rebuke to those who accused the movement of harboring racists.
His charisma, strong debate performances and compelling rags-to-riches story propelled him from a curiosity to the top of the polls, albeit briefly.
"I grew up in a world of segregated water fountains," Cain said Saturday. "My father was a chauffeur; my mother was a maid. And we showed that you didn't have to have a degree from Harvard in order to run for president."
Had he remained at the back of the pack, it is possible Cain's private life would never have been subject to scrutiny. But as Cain frequently pointed out, turning around to show crowds an imaginary target on his back, he could not escape the negative attention as his profile rose.
A successful Atlanta radio talk show host, motivational speaker and author after retiring as chief executive of Godfather's Pizza, Cain joined the race in May. His announcement before a crowd of 15,000 at Atlanta Memorial Park was virtually the only other time in an almost seven-month campaign that his wife stood at his side in public.
Cain was the first candidate in this election to introduce an easily digestible alternative to the complex federal tax code. His catchy "9-9-9" plan called for a system of 9% flat taxes. He repeated the three numbers like an expert pitchman, but sometimes ran into trouble when pressed on the details. Many analysts said the plan would cut taxes on the rich and raise taxes on the middle class.
Throughout, Cain signaled he'd be a different sort of candidate. He wore sunglasses and sometimes greeted crowds with the corny phrase, "Aww, shucky ducky, as the man would say." He occasionally broke into song. He would charm crowds by responding to criticism with a quote from his unschooled grandfather: "I does not care."
But there was a downside to being unconventional. Cain's small staff seemed frequently at wit's end. Plans to meet donors sometimes fell through.
Instead of concentrating on the early-voting states, Cain launched a book tour in September, making stops all over the country that fed speculation he wasn't serious about the nomination. Cain, who disputed that, subtitled his memoir "My Journey to the White House."
Steve Duprey, a New Hampshire GOP committeeman and campaign veteran, said candidates who don't build strong organizations have trouble surviving bad news. "They lack the roots under that tree that help sustain you when the going gets rough," Duprey said.
A festive mood had prevailed Saturday outside Cain's would-be headquarters. Before Cain arrived in his custom campaign bus, there was bunting, barbecue and blaring pop music; there was a sign-up sheet for volunteers and $50 Herman Cain golf shirts for sale. Soon, many of his supporters were dejected.
"I just — I'm heartbroken," said Hokey Sloan, 63, a restaurateur from Auburn, Ga. "He was the one candidate I could really agree with."