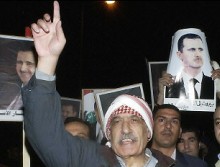 Baath Party MP Assem Qanso told MTV television on Saturday that the ongoing protests in Syria are being instigated by Lebanon First bloc MP Okab Sakr, Hani Hammoud – an adviser to former Prime Minister Saad Hariri – and Hariri himself.
"The protests are the work of Okab Sakr who is tasked with [making] these fabrications and protests [from] Belgium. I know Sakr's whereabouts and the room he is presently at, along with Hani Hammoud [and the two are directed by] Hariri," Qanso said.
He added that Al-Jazeera and Al-Arabiya TV stations "are broadcasting same footage of [the protests taking place] in many areas in Syria."
Asked about recent statements issued by US Vice President Joe Biden that the Syrian regime is "threatening" the region, Qanso said: "[US President Barack] Obama and Biden have called [on Syrian President Bashar al-Assad] to step down. However, Assad has never felt better than how he is feeling now."
"Syria has immunity and is used to economic pressure that might affect the [Syrian] people and some commodities," Qanso said in reference to the recent sanctions that have targeted the Syrian regime.
According to a senior US official, Biden told Turkish President Abdullah Gul during a meeting on Friday that "Assad and his regime are the source of instability in Syria now and pose the greatest danger to fanning flames of sectarian conflict not only in Syria but beyond."
Qanso also denied a UN report saying that 4,000 people have been killed in Syria saying: "This is a lie. Let them offer [the names of those who have been killed]."
He added that the international community "has forgotten reforms [in Syria] and all they need to do is overthrow Assad."
Qanso also denied reports that members of the Shia group Hezbollah are assisting Syrian security forces in their crackdowns on protesters.
"Does Assad's army, which is comprised of 700,000 soldiers, need Hezbollah's' assistance?" Qanso asked.
Regarding Lebanon, when MTV asked Qanso about what he expects to happen if Prime Minister Najib Mikati refuses to introduce in the cabinet the issue related to false witnesses, Qanso said: "Everything is possible. If Mikati does not want…to open the case related to false witnesses [we will cut ties with him]."
Qanso denied media reports that Lebanon was able to pay its share to the funding of the Special Tribunal for Lebanon (STL) following meetings between the Syrian leadership and some Lebanese officials affiliated with the current ruling majority. "No visits were made by Lebanese officials [to Damascus]," Qanso said.
On Thursday, Hezbollah Secretary General Sayyed Hassan Nasrallah urged Mikati to bring up in the cabinet the issue of witnesses who allegedly gave false testimonies regarding Rafik Hariri's 2005 assassination.
Before the collapse of Saad Hariri's cabinet in January 2011, the Hezbollah-backed March 8 politicians had called on the government to task the Justice Council with investigating the issue of false witnesses. However, Western-backed March 14 figures argued that the regular judiciary should handle the matter.
The March 8 ministers resigned over the dispute, causing the collapse of Saad Hariri's government.
Mikati announced on Wednesday that he transferred Lebanon's annual share of funding to the UN-backed court probing the 2005 assassination of former Prime Minister Rafik Hariri.
The Netherlands-based tribunal has indicted four Hezbollah operatives in connection with the murder, but they have not surrendered to the STL.
Lebanon is responsible for meeting 49 percent of the STL's financing, which amounts to some $35 million (25.2 million euros) this year.
In response to a question regarding Syria's presence in Lebanon, Qanso said: "I did not want the Syrian army to leave Lebanon because the Taif Accord stipulates that Syrian forces need to take position in the Bekaa Valley and not to withdraw completely."
The Taif Accord, which was written by Lebanese parliamentarians in 1989 in Taif, Saudi Arabia, helped bring an end to the Lebanese civil war.
"Upon the withdrawal of Syrian troops from Lebanon, I said that I would stand in front of the Syrian tanks to prevent them from leaving [the country] because they [offer] protection to Lebanon," Qanso told MTV.
"Syria is strong when Lebanon is strong," Qanso added.
Following the 2005 murder of Rafik Hariri, massive demonstrations rocked Beirut during which Lebanese protesters called on Syria to pull out its troops from Lebanon. Syrian soldiers left Lebanon by the end of April 2005. At the time, Syria was blamed for Hariri's killing, but denied the allegations.
Now Lebanon