Arab League imposes travel ban on 17 Syrians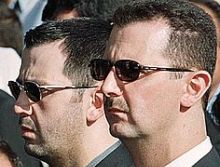 The Arab League, which voted to impose sanctions on Syria for failing to end a crackdown on protesters, has listed 17 people banned from travel to Arab states, including President Bashar al-Assad's brother, Egypt's state news agency said on Thursday.
The list also included the defence and interior ministers, intelligence officials and senior military officers. The president's brother, Maher al-Assad, who was listed, commands the Republican Guard and is Syria's second most powerful man.
A League committee charged with overseeing sanctions recommended stopping flights to and from Syria starting mid-December and also recommended exempting wheat, medicine, gas and electricity from the embargo, the agency reported.