Lebanese call Syria 'terrorist' footage a fabrication
Seven Lebanese men on Tuesday denounced Syria's authorities for what they said was false usage of footage filmed in 2008 to prove "terrorist" involvement in unrest rocking Syria.
The seven men at a press conference in Tripoli's impoverished Bab al-Tabbaneh neighbourhood showed what they said was the original video they had shot and posted on Facebook, and identified themselves one by one.
"The footage aired by the Syrians is fabricated and full of lies and we urge the Lebanese government to protect us," said Ahmad Said, who bore a strong resemblance to one man in the video.
Syrian Foreign Minister Walid Muallem on Monday aired gruesome video footage he said showed "terrorist" groups killing Syrian troops in various towns across the country.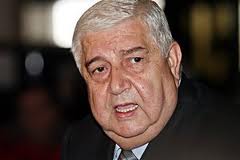 In one segment, a group of armed bearded men are shown making their way through some bushes and trees, with the caption "Footages (sic) of the members of the terrorist armed gangs, at training" in the Syrian coastal city of Latakia.
The seven Lebanese said the segment had nothing to do with the Syrian revolt and was actually footage they themselves filmed in 2008 during clashes in Lebanon.
They accompanied a number of journalists, including one from AFP, to the area where they said the video was shot.
"This video was filmed on our phones behind the Luqman school at the northern entrance to Tripoli where we were defending our families and our districts in 2008," said Ahmad Issa, identifying himself in the footage.
e was referring to sectarian clashes in May of that year that left more than 100 people dead across Lebanon.
Issa said he and his peers had filmed the gathering and posted it to Facebook back in 2008.
He said residents of Bab al-Tabbaneh noticed the footage was first used five months ago by satellite channel Dunia, owned by Syrian President Bashar al-Assad's tycoon cousin Rami Makhlouf.
"Now that the regime has come out and falsely claimed this footage, we now have to stand up and defend ourselves and our families: I have never been to Syria, nor have any of us here," Issa said.
Another segment of the video aired by Muallem shows a shocking scene of a lynching in what the caption said was a Syrian area.
But a Lebanese television channel, owned by the family of Saudi-backed ex-premier Saad Hariri, claimed the footage was in fact that of the 2010 lynching of a murder suspect in the southern Lebanese village of Ketermaya.
The TV report could not be independently verified.
Tension is rising in Lebanon over the Syria crisis, which has deepened a rift between a pro-Syrian alliance led by Shiite militant Hezbollah and a Western-backed opposition led by Hariri.
Lebanon's second largest city, Tripoli is home to a majority Sunni Muslim population that has thrown its weight behind the anti-Assad movement in neighbouring Syria.
The port city is also home to a minority Alawite community, an offshoot of Shiite Islam from which Assad himself hails. The majority of Lebanon's Alawites remain loyal to the embattled regime in Damascus.
The United Nations estimates that more than 3,500 people have died in a crackdown by Syrian security forces since March on anti-regime protest. Damascus blames "armed terrorist gangs" for the unrest.
Photo: Lebanese men who claim that the Syrian authorities falsely used footage of them to prove "terrorist" involvement (AFP)