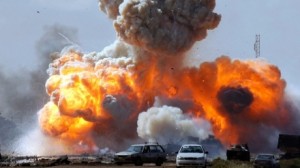 A explosion rocked the western Iranian city of Isfahan on Monday, the semi-official Fars news agency reported, adding that the blast was heard in several parts of the city.
The reported incident occurred about two weeks after Gen. Hasan Tehrani Moghaddam was killed together with 20 other Guard members Nov. 12 at a military site outside Bidganeh village, 40 kilometers southwest of Tehran.
Iran operates a uranium conversion plant near Isfahan, It first went into operation in 2004, taking uranium from mines and producing uranium fluoride gas, which then feeds the centrifuges that enrich the uranium.
Since 2004, thousands of kilograms of uranium flouride gas were stockpiled at Isfahan and subsequently sent to the enrichment plant in Natanz.
Haaretz
This error message is only visible to WordPress admins
Error: No connected account.
Please go to the Instagram Feed settings page to connect an account.