Egypt protest against military rulers is biggest yet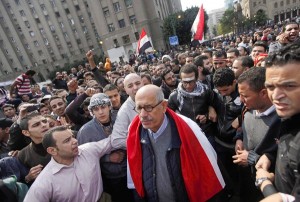 They came by the tens of thousands, swelling through neighborhoods, marching over bridges and pouring into Tahrir Square on Friday in the biggest protest yet against Egypt's increasingly isolated military rulers.
Workers, mothers, activists, students and doctors, their numbers multiplying into nightfall, rallied in spirit and defiance reminiscent of the chilly February days that marked the end of Hosni Mubarak's regime. Dubbed "Last Chance Friday," the demonstration had the hardened determination of a battle and the air of a carnival. Protesters bandaged after earlier clashes with police wandered amid families with face-painted children.
The protest, attracting close to 100,000 people, erupted days ahead of Monday's first round of parliamentary elections, heightening this frayed nation's political turmoil and intensifying the standoff between protesters and generals who have yet to find a way out of a crisis that is eroding their once-unquestioned legitimacy.
In a bold public rebuke, Washington urged the military to step aside, a sign of the Obama administration's growing frustration over months of human rights abuses and stifled democracy in one of the region's most influential nations — one whose military receives about $1.3 billion in annual U.S. aid.
"The United States strongly believes that the new Egyptian government must be empowered with real authority immediately," the White House said in a statement. "Full transfer of power to a civilian government must take place in a just and inclusive manner that responds to the legitimate aspirations of the Egyptian people, as soon as possible."
The rancor between the military and demonstrators crystallized Thursday when the army appointed Kamal Ganzouri, 78, a prime minister under Mubarak, to head a new interim government. Protesters said the selection was a throwback to an era they want to erase, another sign that the army, just like Mubarak, is aloof to the demands of the street.
"The choice of Ganzouri shows the military's stubbornness toward the people," said Therese Gamil, a university student. "We're witnessing the same scenario of lies like during the revolution to oust Mubarak. False promises, bad choices and statements that come out while people continue to be killed."
At a news conference, Ganzouri said the military had granted him more powers than were given to the interim Cabinet led by Prime Minister Essam Sharaf, which resigned this week. It was unclear what those powers would include. A leading activist group, the Jan. 25 Revolution Youth, said it would stage a sit-in near the Cabinet building to prevent Ganzouri from entering.
"I asked for some time to name the ministers of the new government, which will certainly not be formed before the elections," said Ganzouri, who served Mubarak from 1996 to 1999. "But it will not take long."
The military did find a bastion of support Friday. Thousands of people gathered in Cairo's Abbasiya neighborhood shouting slogans in favor of Field Marshal Mohamed Hussein Tantawi, the man they regard as holding the nation together amid economic uncertainty and social upheaval.
But the demonstration in Tahrir Square re-energized activists who for months had grown both outraged and anxious. Footsteps and chants echoed through a rippling sea of flags and banners as soldiers peered through barbed wire and barricades.
"The revolution that overthrew Mubarak came with demands the military has not honored," said Ismail Abdullah, a university student. "They should be stripped of power immediately."
The rally also pointed to the maneuverings of the Muslim Brotherhood, the country's most powerful political force. The Brotherhood did not support the protest, fearing that further chaos after a week of unrest could disrupt elections it is poised to dominate. That tack has led to accusations that the Islamist organization is selling out.
"The Brotherhood abandoned this revolution a long time ago," said Mohamed Sanad, a 52-year-old teacher. "They only care for winning a parliamentary majority and are trying to jump over bodies of this revolution's martyrs. It's very clear that they have a deal with the military to reach their own interests."
Such are the undercurrents and animosities running through a country that once represented the purest ideals of the "Arab Spring" protests. Ploys for power — the military fighting to hang on to it, the Brotherhood trying to win it — are unreeling against the backdrop of a resurgent uprising. The army pledged this week to hand authority to a democratic government by July, but protesters want the generals back in their barracks now.
"Come on, Egyptians, leave your homes" to come to the square, they chanted, "the field marshal is the same as Mubarak."
The violence between police and protesters that killed at least 41 people and injured 2,000 others remained dormant for a second day after a truce was reached early Thursday. Soldiers erected barricades to create a buffer between police and demonstrators; hundreds of protesters formed human shields to prevent young men from leaving Tahrir to attack the nearby Interior Ministry.
Many demonstrators were calling for a "national salvation government" that might be headed by Mohamed ElBaradei, a Nobel Peace Prize laureate, or Abdel Monem Aboul Fotouh, a presidential candidate and former top official in the Brotherhood. The transitional government would stay in place until a president was elected.
"The military knew they would not be able to manipulate ElBaradei and Aboul Fotouh," said Khaled Hussein Reda, an engineer. "But how can we bring in someone like Ganzouri, who was already appointed by Mubarak?"
Photo: Pro-reform leader and Nobel peace laureate Mohamed El-Baradei, center, wears an Egyptian flag draped on his shoulders as he is surrounded by protesters during his arrival for Friday prayers in Tahrir Square in Cairo, Egypt, Friday, Nov. 25, 2011. Tens of thousands of protesters chanting, "Leave, leave!" are rapidly filling up Cairo's Tahrir Square in what promises to be a massive demonstration to force Egypt's ruling military council to yield power. The Friday rally is dubbed by organizers as "The Last Chance Million-Man Protest," and comes one day after the military offered an apology for the killing of nearly 40 protesters in clashes on side streets near Tahrir over the last week.(AP Photo/Khalil Hamra)]