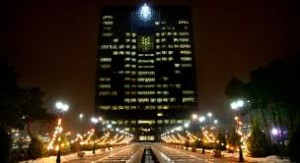 Iran's parliament voted on Wednesday to review relations with Britain after it imposed sanctions on its central bank, a move described as "vindictive" by a leading lawmaker who called for the British ambassador to be expelled.
"Britain's government once again showed a depth of hatred and enmity towards the Islamic Republic system worse than that of the devil and it took another step towards being an enemy … by announcing sanctions on the central bank," said a statement signed by 228 lawmakers and read out in parliament.
Western countries imposed a new wave of sanctions this week to increase the pressure on Tehran to halt its disputed nuclear activities, with Britain banning all transactions with the Central Bank of Iran.
The practical impact of Finance Minister George Osborne's announcement may be less than its political resonance as Britain and fellow European Union members already have sanctions in place that restrict financial transactions with Iran.
But naming the central bank is a reminder of Iran's vulnerability if many other countries should follow suit and it outraged politicians in the Islamic Republic.
President Mahmoud Ahmadinejad told a crowd near Tehran that the West aimed to steal Iranians' money to help get out of their own financial troubles. "Any expropriation of the Iranian people's foreign exchange reserves is considered major theft and the Iranian people will treat those who do this as thieves."
Alaeddin Boroujerdi, head of parliament's foreign relations committee, called for the British ambassador to be expelled.
"Britain's policy is a hostile one and having normal relations with that government is meaningless," he said. Parliament will continue debating the matter on Sunday.
NUCLEAR OPTION
President Barack Obama said on Monday the United States had "the entire Iranian banking sector — including the Central Bank of Iran", in its sights. But Washington stopped short of sanctioning the central bank amid fear of the potential impact on the oil market and the global economy.
U.S. officials have considered sanctions that would cut off from the U.S. financial system any foreign bank that has dealings with the Central Bank of Iran. Analysts have called that a "nuclear option" due to the devastating effect it could have on Iran's oil-based economy.
The central bank receives payment for the more than 2 million barrels of oil Iran exports each day so cutting it off from the global financial system would be a major blow.
Iran is the world's fifth biggest exporter of crude and any disruption to its supply could push up oil prices that are already well over $100 a barrel.
U.S. and EU sanctions passed in 2010 already stopped most Western banks dealing with Iran, and pressure from Washington made it temporarily impossible for Indian oil buyers to pay for some $5 billion of Iranian oil earlier this year.
Iran's central bank chief played down London's move.
"It has been a while that Iran has not had banking relations with Britain, especially on the level of the central bank," Governor Mahmoud Bahmani told the semi-official Mehr news agency. "If one country adopts this decision it does not mean it has an international basis."
Oil rose on the sanctions announcements on Monday but fell back on Wednesday due to weak economic data, with Brent at $107.92 a barrel, but analysts have spoken of prices spiking to $150 if tensions with Iran escalate.
Iran has said it would close the Gulf to shipping if the United States of Israel were to attack, something both countries say is still an option if nothing else stops Tehran's progress towards getting nuclear weapons.
Tehran denies it is seeking the bomb.
"We do not need the atomic bomb. However I should make something clear," Ahmadinejad said in his televised speech.
"When we say we don't have it and we don't want it, it's because we don't have it or need it. But if the nation of Iran wants to make the atomic bomb one day, it is not scared of you."
China joined Russia on Wednesday in condemning the new sanctions. Both countries are veto-wielding permanent members of the U.N. Security Council and would have prevented a new U.N. sanctions round beyond the four already passed since 2006.
"We believe pressure and sanctions will not fundamentally solve the Iranian issue, but will complicate the issue. Intensifying confrontation is not conducive to the region's peace and stability," Chinese Foreign Ministry spokesman Liu Weimin told reporters in Beijing.
France and the Netherlands both back sanctions on Iran's central bank in principle. Both have yet to follow Britain's lead but the Netherlands said it would push for the toughest measures when EU ministers meet to pass new sanctions next week.
"The (European Union) council of ministers should take on Dec. 1 the decision (on) these sanctions which should hit the Iranian government in the heart," the Dutch foreign ministry said in a statement.
Reuters