Syria hopes to cash in on support Iraq, Lebanon to counter sanctions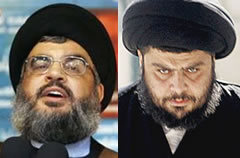 Syria, isolated over its deadly protest crackdown, hopes to cash in on support from neighbors Iraq and Lebanon to counter Arab sanctions that threaten to choke its economy.
"We know how to manage when the going gets rough, because we have been facing sanctions for years," a Syrian official told AFP on condition of anonymity.
"Russia is our political shield while Iraq, Lebanon and Iran are our economic lungs," the official added.
The Arab League, which has suspended Syria's membership in the 22-strong bloc, has threatened Damascus with punitive measures over the crackdown on protests and is due to meet on Thursday for more crisis talks.
Lebanon had voted against suspending Damascus along with Yemen at an emergency meeting of the bloc on November 12, while Iraq abstained. Syria's traditional allies Russia and Iran both slammed the suspension.
The European Union and the United States have already imposed a raft of sanctions on the regime of Syrian President Bashar al-Assad and his inner circle to press for an end to the bloodshed.
More than 3,500 people, mostly civilians, have been killed in the country since mid-March when the wave of anti-regime protests erupted, according to the United Nations.
The Arabs are also preparing to punish Syria after it failed to implement a plan that had been endorsed by Damascus to pull its troops from the streets, free prisoners and engage in talks with the opposition.
And experts warn that the raft of sanctions the Arabs plan to impose could asphyxiate the country.
"We want to strangle financially the Assad regime, not punish the people," Arab League deputy chief for economic affairs Mohammad Twaijri said in statement published on Monday in the Saudi business daily Al-Iqtissadiya.
The Arab sanctions could include "travel bans, halting bank transfers, freezing Syrian assets in Arab countries, halting Arab projects in Syria and joint Arab-Syrian projects," the paper said quoting Twaijri.
He also said Syria's membership in the Arab free trade zone could be frozen and that an Arab League economic and social committee would meet to decide which sanctions to impose before asking the bloc to vote on them.
According to Syria's bureau of statistics, 52.5 percent of all Syrian exports went to Arab countries in 2009 while 16.4 percent of imports came from Arab nations.
Neighbouring Iraq, whose ties with Damascus have improved in the aftermath of the fall of Saddam Hussein's regime, tops the list of importers, buying up 31.4 percent of outgoing Syrian goods.
"I don't think that Iraq will take part in sanctions against Syria," a government official with close ties to Iraqi Prime Minister Nouri al-Maliki told AFP.
Syria also imports 4.1 percent of its goods from Lebanon, where the government is dominated by the Syria- and Iran-backed Hezbollah militant group.
A European economic expert based in Damascus says the Arabs have no legal basis to freeze Syria's membership in the Arab free trade zone.
"There are no clauses in the pact calling for exclusion or suspension of a member. A nation can pull out but cannot be excluded. There is no legal basis for that," the expert said.
Furthermore Syria can hit back and punish the Arabs by closing its borders with neighbors Turkey and Jordan – which have been critical of the crackdown – cutting off a major conduit for the transit of European goods destined for Saudi Arabia and other Gulf nations, the expert added.
Syrian businessmen meanwhile said whatever the case, the imposition of Arab sanctions on the country, in addition to a raft of US and EU measures, will make life miserable.
"We'll breathe with much difficulty but we won't die as long as the government sets up a real economic strategy" to counter the sanctions, said a Syrian who imports medical products.
Another trader said the poor would suffer the most, regardless of Arab League assurances that it wants to spare the Syrian population of any added hardships.
"For years we have faced Western embargoes and it has forced us to become inventive," the businessman said.
"Many Syrians have set up offshore companies in several countries, including Lebanon, to sell or buy merchandise," he added.