Suleiman calls for dialogue and for funding STL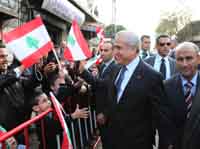 President Michel Suleiman is addressing the Lebanese people on the eve of Lebanon's independence anniversary.
He reiterated his call for dialogue and for respecting previous agreements reached during dialogue talks specially with regards to the funding of the Special Tribunal for Lebanon and the illegal Palestinian arms outside the camps.
Here is an outline the statements he made: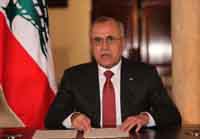 "Liberation from any foreign mandate, occupation or hegemony is the most important condition for independence, in addition to extending the state's authority over its entire territory, the sovereignty of the national decision and the state's success in running the public affairs through its free will. "He said adding "the best path towards independence lies in our national charter and in our total allegiance to our homeland. "
Suleiman said "This is the first time since 1975 that no enemy or brotherly forces exist on Lebanese soil "
"It is the first time also since 1975, that, for a period longer than three years, Lebanon has not witnessed any significant conflicts ."
"We have sought to implement UN Security Council Resolution 1701, which ended a devastating war between Hezbollah and Israel , in cooperation with the Lebanese army." he added
"During this period, we have established diplomatic relations with Syria and have held elections. The government began discussing the drafting of a new electoral law that guarantees fair representation. "( a possible reference to the electoral law that calls for proportional representation ).
"I know you are worried that the government and [its] institutions are not being able to fully assume responsibility of all Lebanese territory and [protect the citizens from] Israeli [violations of Lebanese territory], but this should not be a source of frustration."
He called for comprehensive nation-wide dialogue.
"Regardless of the current debate over the possibility of resuming national dialogue, we should [work] to build a united state. We should not delay the implementation of what we have agreed to during [past] dialogue sessions, especially concerning the use of arms by Palestinian refugees in Lebanon . Additionally, we should be committed to implementing international resolutions, especially those related to the Special Tribunal for Lebanon (STL), probing the 2005 assassination of former Prime Minister Rafik Hariri .
He concluded his speech by saying:
"My message to all Lebanese is to be neutral regarding anything that can affect their peace and dreams, and to commit to the path of dialogue, moderation and coexistence."
This is Breaking news ….More details to follow