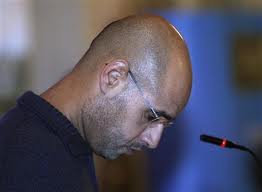 The International Criminal Court Prosecutor's Office said on Saturday it had received confirmation of the arrest of Muammar Gaddafi's son from the Libyan authorities.
Speaking in The Hague shortly after the announcement, the ICC's prosecutor said Saif al-Islam Gaddafi would now have to stand trial.
"The good news is Saif al-Islam Gaddafi is arrested and that is very important because we consider, and the judges consider him one of the most, the principal, with his father Muammar, on the crimes committed in Libya after 17th February. So that's crucially important. He's arrested, he's alive and now he will face justice and that is the most important news," said Luis Moreno-Ocampo.
In June the ICC issued arrest warrants for Muammar Gaddafi, Saif al-Islam and Libyan intelligence chief Abdullah al-Senussi on charges of crimes against humanity after the U.N. Security Council referred the Libyan crisis to the court in February.
Moreno-Ocampo said now that Saif had been captured, the details of how and where he would stand trial had to be discussed with the Libyan authorities.
"I am going to Libya to discuss the issue, how we'll manage this issue. The news is, Saif will face justice. Where and how, that we'll discuss it. I know the case we present at the ICC, I have to learn about what they have there, and then we'll discuss it. But we'll be in harmony to be sure that Libyan people have to know Saif will face justice," the ICC prosecutor said.
But he suggested the trial was likely to take place in Libya.
"No here, the issue, the rules are clear. The judges will decide but the rules are the primacy for the national authorities, depending if they have a case. So we will discuss that. I think, in some way now, it's a easy time. The difficult time was to stop the crimes and arrest him. Now it's easy," he said.
The ICC, which is based in The Hague, said last month that Saif al-Islam was in contact via intermediaries about possibly surrendering, but that it also had information that mercenaries were trying to take him to a friendly African nation where he could evade arrest.