Syrians abroad meet to coordinate support for revolution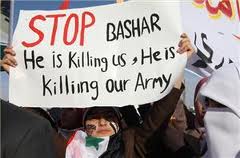 Syria's opposition abroad called on Arab leaders to stand by the Syrian people and against the regime of President Bashar al-Assad at a conference in Vienna this weekend, media reports said.
Some 80 representatives from 27 countries, including four members of the opposition Syrian National Council, met in the Austrian capital to coordinate efforts abroad to back the revolution.
The Union of Syrians Abroad, set up in September in Vienna, wanted to provide "political and humanitarian support for the revolution" and was working together with the opposition council, its spokesman Amer Alkhatib told the Austria Press Agency.
In its founding declaration in September, the union expressed its "full commitment to support the Syrian people in toppling the regime", while backing a "peaceful revolution".
Among the participants at the Vienna conference were representatives from mostly European countries but also South Korea, Saudi Arabia, Russia and the United States.
The Arab League on Saturday suspended Syria until President Bashar al-Assad implements an Arab deal to end violence against protesters, and called for sanctions and transition talks with the opposition.
The United Nations estimates some 3,500 people have died in the fierce crackdown by Syrian government forces.
Ahramonline