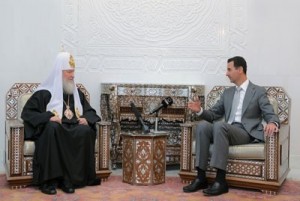 Syrian President Bashar al-Assad on Sunday praised Russia for its support, during a visit by Russian Orthodox leader Patriarch Kirill to Syria, according to the official SANA news agency.
In a meeting with Kirill, the embattled Assad expressed "his respect for Russia ," saying that "the Russian people and authorities took the side of the Syrian people."
Assad also emphasized the importance of the "historic relations between the two friendly countries."
The patriarch arrived in Damascus on Saturday for a visit that will take him to Syria and Lebanon said he hoped to see "the Syrian people overcome this crisis in the country and that Syria remains a country of love and peace," SANA said.
On the other hand Syrian opposition slammed Russia's position towards the Syrian people.
A Syrian opposition leader last October accused Russia and China of putting their economic interests first and showing "hostility" toward the Syrian people by blocking a United Nations resolution demanding an end to violence.
The stance of Russia and China, which on Oct. 4 vetoed a U.S. and Europe-backed motion condemning President Assad's crackdown on protests, will be reciprocated across the Arab world, Faruk Tayfur, deputy chairman of the Syrian National Council formed in Istanbul last October , told Turkey's state-run Anatolia news agency. Russia sells weapons to Syria and maintains a naval base there.