Syrian Forces Kill 22; Arab League Calls Emergency Meeting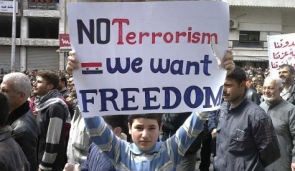 Syrian security forces opened fire on protesters, killing 22 people yesterday and prompting the Arab League to call an emergency meeting to discuss the government's failure to halt the bloodshed.
Demonstrations against the rule of President Bashar al- Assad followed prayers for the Islamic holiday of Eid al-Adha. At least 16 of those killed were in Homs, Usama al-Himsi, a Syrian activist in that city, told Al Jazeera television by phone.
"The army hit us with rockets," he said. There was no water, no power, and protesters weren't able to aid the injured, he told Al Jazeera.
The government on Nov. 2 agreed to an Arab League plan that calls for an end to all violence, the release of people held during protests and the clearing of cities and neighborhoods of "all military displays." More than 4,000 demonstrators have been slain in about eight months of protests against Assad's rule, according to Ammar Qurabi of the National Organization for Human Rights in Syria. The unrest was inspired by uprisings that toppled leaders in Libya, Tunisia and Egypt this year.
The Arab League will meet on Nov. 12, after the holiday, "in light of continuing acts of violence and the failure of the Syrian government to implement commitments agreed to under the Arab Plan of Action to resolve the crisis," Egypt's official Middle East News Agency reported, citing a statement from the group.
Assad has blamed the fighting on Islamic militants and foreign provocateurs, and has sent security forces to crush the demonstrations.
"We have no choice left but to win any battle that would target our sovereignty and national decision," Assad said during a meeting yesterday with political, economic and social leaders, according to the official Syrian Arab News Agency.
There are no signs that army forces are leaving Syrian cities, Al Jazeera reported, citing protesters.
BW