Mikati says he is committed to STL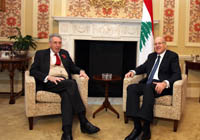 Lebanese PM Najib Miqati who is in London on an official visit met with UK Minister of State for Foreign Affairs Lord David Howell. He is also scheduled to hold talks with his British counterpart David Cameron on Monday as his government is coming under increased western pressure to fund the Special Tribunal for Lebanon.
His press office said Miqati would discuss with Cameron the situation in the region, bilateral ties and ways to receive British technical, administrative and military assistance.
Mikati reportedly told Howell that his cabinet is determined to implement its ministerial policy statement .
U.S. Assistant Secretary of State for Near Eastern Affairs Jeffrey Feltman warned on Saturday that ties with Lebanon would suffer if Beirut fails to pay its share of funding to the tribunal
"I'd expect the same thing in terms of some other countries as well," Feltman said.
Lebanon is responsible for meeting 49 percent of the costs of the court. But the Hezbollah-dominated government has yet to pay its share, estimated at $33 million.
In remarks to the Lebanese residing in Britain, Mikati stressed Monday "the need to fully cooperate with international resolutions including 1757" that established the STL.
"We can't be selective in asking the international community, the Security Council and the U.N. to support the full implementation of 1701 in southern Lebanon and at the same time say that we don't want to implement another resolution," he said.
"I am sure that the cabinet will be at the level of responsibility" when the STL funding is put up for discussion," Miqati said.
Speaking to the BBC on the eve of his first official visit to the United Kingdom , Mikati acknowledged that Hezbollah held reservations about the STL, which in July indicted four members of the resistance group in the assassination of former Prime Minister Rafik Hariri, but said that "Nasrallah left the issue to the constitutional institutions to play their part."
Hezbollah denies involvement in the assassination of Hariri and says the tribunal is part of 'U.S.-Israeli project" aimed at targeting the resistance group and sowing strife in the country.