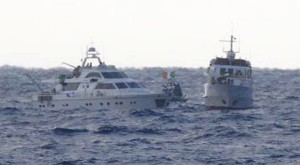 The Israeli navy has intercepted and boarded two boats which were trying to break the blockade of the Gaza Strip.
The Canadian and Irish boats with 27 activists from the US and eight other countries on board had set sail from Turkey on Wednesday.
They were carrying medical supplies for the coastal enclave.
The navy said no-one was hurt in the operation and the boats would be towed to the Israeli port of Ashdod, north-east of Gaza.
The Irish Saoirse (Gaelic for freedom) and the Canadian Tahrir (Arabic for liberation) were about 50 nautical miles from the Gaza shoreline when they were contacted by the Israeli navy and told to turn back, the flotilla organizers said.
The navy said it "advised the vessels that they may turn back at any point, thereby not breaking the maritime security blockade" or could sail to Ashdod or an Egyptian port.
"The activists refused to co-operate," AFP quoted the navy as saying.
This time there appeared to be little prospect of a violent confrontation. An organizer on the Canadian boat, Ehab Lotayef, a Canadian electrical engineer of Egyptian origin, said in a video message on Wednesday after leaving Turkey that the participants "are not going to challenge Israel physically. We are a peaceful mission that is committed to the safety of the personnel on board" the two vessels, he said.
Mr. Lotayef added that the goal was "to say that the blockade is illegal and inhumane."
"We would want to see everybody manage to go to Gaza freely from any country in the world," he added.
BBC & New York Times