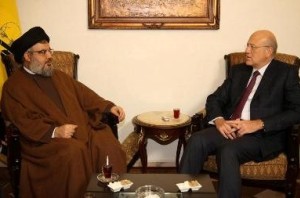 Hezbollah Secretary General Sayyed Hassan Nasrallah will meet with Prime Minister Najib Mikati to address basic issues related to administrative appointments and paying Lebanon's share of funding to the Special Tribunal for Lebanon (STL), Al-Balad newspaper reported on Friday basing its report on unnamed source close to Hezbollah .
Nasrallah said on Monday evening that his party is against paying Lebanon's share of funding to the STL because of the international court's "aims, gaps and behavior," adding that if ministers do not reach consensus, there is the option of casting a vote.
Four Hezbollah members have been indicted by the UN-backed court in the 2005 assassination of former PM Rafik Hariri. However, the Shiite group strongly denied the charges and refuses to cooperate with the court
Lebanon contributes 49 percent of the STL's annual funding.
In a related development former Justice minister Ibrahim Najjar told Voice of Lebanon on Friday in response to MP Michel Aoun's calls on Mikati to personally finance the STL by saying : "No one has the right to fiance STL other than the government, unless the cabinet decides so ".
Najjar added : "According to the agreement signed between Lebanon and STL only the UN chief Ban ki Moon decides on the sources of financing for the tribunal and if Lebanon decides not to pay it will be up to him to decide who will make up for Lebanon's default on payment".
Hezbollah toppled the previous government headed by Saad Hariri over its refusal to cut ties with the tribunal, set up in the aftermath of the 2005 assassination of Saad Hariri's father, Rafik Hariri.
The tribunal has indicted four Hezbollah operatives for the February 14, 2005 bombing that killed Hariri and 21 others in Beirut.
But the Shiite party and its allies, which dominate the new government, have dismissed the court as part of a U.S.-Israeli conspiracy and have vowed to block any efforts by the Lebanese government to contribute its share to the tribunal's funding.
Beirut has yet to pay what it owes for the year 2011 and in 2010 transferred the funds without government approval.
Hariri's killing plunged Lebanon into a series of political crisis that brought the country close to civil war in 2008.
One observer told Ya Libnan last Wednesday:" In the past Hezbollah was referred to as being the state within the state of Lebanon , but ever since Hezbollah brought down the government of PM Saad Hariri , Hezbollah became the state and Lebanon has become the state within Hezbollah's state and Hezbollah chief Sayyed Hassan Nasrallah has become the de facto supreme leader of Lebanon."