Tarshish: Is Aoun trying to cover up Hezbollah's attempt to install its telecom network?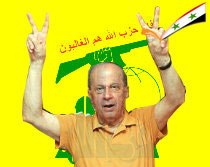 MTV reported on Friday that Hezbollah "threatened" the residents of Tarshish after they prevented the party members from installing a telecommunications network in this upper Metn town of Mt Lebanon.
The Ministry of Telecommunications issued a statement on Tuesday denying that Hezbollah is attempting to install a telecommunications network in Tarshish
"A technical staff was assigned to supervise the works of the fiber optic networks project, carried out by a private company working for the Telecom Ministry, and we found out that there are no non-state installations in the telephone passages that belong to the ministry in Tarshish," the statement said.
The ministry also reassured the residents of Tarchich that "no non-state networks will be installed in their town."
The Ministry of Telecommunications is headed by Nicolas Sehnaoui who is a member of Free Patriotic movement (FPM) which is headed by MP Michel Aoun.
According to observers, since Aoun is a key ally of Hezbollah , there is serious concern in Lebanon that he is trying to cover up Hezbollah's attempt to use the state's telcom network infrastructure to install its own. Aoun, like Hezbollah threatened yesterday that the fuss over the Tarshish incident could lead to a repetition of May 7, 2008 event.
In May 2008, Hezbollah occupied the western part of Beirut and tried to occupy Mt Lebanon when the cabinet of former PM Fouad Siniora decided to remove the party's telecommunications network . Hezbollah reportedly lost more people during its failed effort to occupy Mt Lebanon than in the 2006 war with Israel and the son of Sheikh Naim Qassem Deputy Secretary general of Hezbollah was reportedly killed in the Mt Lebanon battle.
One observer told Ya Libnan:" In the past Hezbollah was referred to as being the state within the state of Lebanon , but ever since Hezbollah brought down the government of PM Saad Hariri , Hezbollah became the state and Lebanon has become the state within Hezbollah's state and Hezbollah chief Sayyed Hassan Nasrallah has become the de facto supreme leader of Lebanon."
unacceptable
The Phalange party on Tuesday held a meeting in Tarshish "to express solidarity with the residents" after media outlets reported that Hezbollah was expanding its telecommunications network in the town.
"This is our town, and what it has witnessed is unacceptable," MP Sami Gemayel said, according to a statement issued by his party.
In a reference to Hezbollah, the MP said that he will not accept having "any army but the Lebanese army and any telecom network but one owned by the Lebanese state."
He also called on Minister Sehanoui to "abide by the laws and prevent any [non-state] party from installing their own telecommunications network" on Lebanese soil.