Saudi Arabia to name heir after funeral of crown prince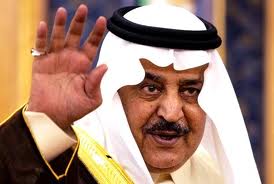 The funeral of Saudi Arabia's Crown Prince Sultan on Tuesday set the stage for King Abdullah to name a new heir, widely expected to be veteran Interior Minister Prince Nayef, a move that would emphasize stability in the world's top oil-exporting country.
Sultan's body, swathed in a brown cloth, was carried through the throng of mourners on a bier amid the flashes of cameras in the sprawling Imam Turki bin Abdullah mosque in Riyadh for funeral prayers before burial.
At stake in the transition is the direction of a major U.S. ally with an aging leadership trying to reconcile its conservative traditions with the needs of a modern economy and a young, increasingly outward-looking population.
"In the political system this is an important event, but the system is designed to ensure continuity," said Jarmo Kotilaine, Chief Economist at National Commercial Bank in Jidda.
"Economic policy is put in place over a much longer period and is not likely to change at all."
In his six-year-old reign, King Abdullah has pushed changes aimed at creating jobs by liberalizing markets and loosening the grip of religious hardliners over education and social policy.
The death of Crown Prince Sultan, who was also defence minister, might also lead to a wider cabinet reshuffle.
Saudi Arabia, which dominates world oil markets and holds profound influence over Muslims through its guardianship of Islam's holiest sites in Mecca and Medina, faces turbulence in its neighbours and a confrontation with regional rival Iran .
Prince Nayef is sometimes described by Saudi liberals as an anti-reform conservative, who is likely to take a cautious approach to social and political change, while viewing foreign policy through the lens of national security.
However, former diplomats to Riyadh and some analysts say the man who has served as interior minister since 1975 may show a more pragmatic side as crown prince — and eventually as king.
"Nayef had some time with Sultan's long illness to run himself in as crown prince and he has acted on behalf of the king," said one former diplomat. "He has become acquainted with authority across the board."
FUNERAL PRAYERS
The body of Sultan, who died of colon cancer in New York on Saturday, was flown back to Riyadh on Monday, accompanied by his younger brother Prince Salman, who may now play a more prominent role in the conservative Islamic kingdom.
King Abdullah was chief mourner at the sprawling Imam Turki bin Abdullah mosque in Riyadh, where the red-and-white checks of Saudi headdresses were crammed between dozens of pillars behind the kneeling figure of the Grand Mufti as he led prayers.
The octogenarian Saudi monarch, who left hospital on Saturday night after a back operation last week, remained seated for the prayers and was wearing a surgical mask over his face.
Guests at the funeral prayer service, including the president of Afghanistan, the Syrian vice-president, the Iranian foreign minister and the head of Egypt's ruling military council, paid condolences to King Abdullah as they filed out of the prayer hall.
Foreign dignitaries, including U.S. Vice-President Joe Biden, will visit Riyadh this week to pay condolences to King Abdullah.
The seniority of the delegations demonstrates Sultan's prominent role as defence minister over five decades when he used multi-billion-dollar arms purchases to strengthen Saudi armed forces and cement ties with Western allies.
King Abdullah, who is in day-to-day charge of Saudi Arabia despite his old age and back trouble, must also name a new defence minister.
One possible candidate is Prince Khaled bin Sultan, a son of the late crown prince who headed Saudi forces during the 1991 Gulf War and has been a deputy defence minister for 10 years.
The job could also go to Riyadh Governor Prince Salman, seen as the next most senior royal after the king and Prince Nayef.
PRINCE NAYEF
Given Sultan's long illness, Prince Nayef, born in 1933, has for many years been seen as the likely new crown prince.
"We need young blood," said a Jidda resident in his 50s. "If they appoint another crown prince from (this generation) we will find ourselves in the same position in a few years because they are all old and we worry that the young ones may later struggle over power."
Nayef's conservative credentials as head of a ministry that has arrested political activists have disquieted liberal Saudis.
He was also quoted soon after the Sept. 11, 2001 attacks on the United States as doubting that any of his compatriots had been involved when 15 of the 19 hijackers were in fact Saudis.
But Saudi-watchers said they anticipated few immediate national policy shifts if Nayef becomes crown prince.
"We do not expect any major or sudden changes in Saudi oil or foreign policy simply because the Saudi monarchy appears extremely cognisant of domestic challenges and their dependence on hydrocarbons to meet these challenges," said a research note issued by RBS.
During the long illness of Sultan and absences of the king, Nayef stood in for his elder brothers, meeting world leaders and managing the kingdom's day-to-day affairs.
"I don't think there will be a substantial change of direction," said Hossein Shobokshi, a Saudi columnist. "The country has always opted for the non-surprising method. So we don't see any big decisions in policy."