Mikati meets US official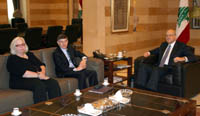 Prime Minister Najib Mikati met on Tuesday with US Deputy Assistant Secretary of State for Near Eastern Affairs Jacob Walles at the Grand Serail in the presence of US Ambassador to Lebanon Maura Connelly, National News Agency reported.
Walles who reports to Jeffrey Feltman, the former US Ambassador to Lebanon and the current US Assistant Secretary of State for Near Eastern Affairs arrived Monday on an unannounced visit amid mounting U.S. pressure on Lebanon to fund the U.N.-backed Special Tribunal for Lebanon ( STL) probing the 2005 assassination of former PM Rafik Hariri.
NNA reported that the two men discussed bilateral relations and the current situation in Lebanon and the region.
Walles is also expected to meet with President Michel Suleiman and other Lebanese key officials.
The visit came a day after the U.S warned Lebanon that it could face "serious consequences" should it fail to fund STL
The warning came following a meeting Monday between U.S. Ambassador to Lebanon Maura Connelly and Free Patriotic Movement leader MP Michel Aoun, a close ally of Hezbollah.
Hours after Connelly's remarks, Hezbollah leader Sayyed Hasan Nasrallah announced that his party is against financing the STL.
He called for a vote within the Cabinet if agreement is not reached among ministers on the divisive issue, which may threaten the stability of the government.
Hezbollah toppled the previous government headed by Saad Hariri over its refusal to cut ties with the tribunal, set up in the aftermath of the 2005 assassination of Saad Hariri's father, Rafiq Hariri.
The tribunal has indicted four Hezbollah operatives for the February 14, 2005 bombing that killed Hariri and 21 others in Beirut.
But the Shiite party and its allies, which dominate the new government, have dismissed the court as part of a U.S.-Israeli conspiracy and have vowed to block any efforts by the Lebanese government to contribute its share to the tribunal's funding.
Beirut has yet to pay what it owes for the year 2011 and in 2010 transferred the funds without government approval.
Hariri's killing plunged Lebanon into a series of political crisis that brought the country close to civil war in 2008.