Mikati attends funeral of Saudi Crown Prince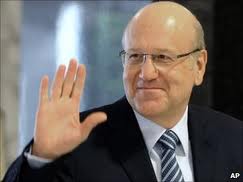 Prime Minister Najib Mikati headed to Riyadh, Saudi Arabia Tuesday to attend the funeral of Saudi Crown Prince Sultan bin Abdel Aziz and to offer his condolences to Saudi King Abdullah bin Abdel Aziz and the royal family, National News Agency reported.
Mikati was accompanied by a ministerial delegation, Grand Mufti of the Lebanese Republic Sheikh Mohammad Rashid Qabbani and Mufti of North Lebanon and Tripoli Sheikh Malek al-Chaar according to the report.
Prince Sultan's death has led to the cancellation of a Cabinet session slated for Tuesday. President Michel Suleiman may also travel to Riyadh Wednesday to offer condolences to Saudi King Abdullah bin Abdul-Aziz and other officials, media reports said.
Following the announcement of Sultan's death Mikati expressed his saying Lebanon had lost a brother and a friend, and the Arab and Muslim world had lost one of its leading men.
"Lebanon has lost a brother and a friend who had always paid attention to Lebanon's affairs. He had generously stood beside the Lebanese during the difficult years through which their country had passed," Mikati said.
"In addition, he [Sultan] was always keen on helping the Lebanese who have gone to sisterly Saudi Arabia looking for a better future. [Saudi Arabia's] doors, which were open for them, were a source of good help and support," Mikati said.
"The Muslim and Arab nations have lost one of its most prominent men, who has fought for the rights of Arabs and Muslims for years," Mikati said.
NNA added that the PM and the accompanying delegation headed to Beirut when the funeral ended.