Clinton warns Iran as US troops leave Iraq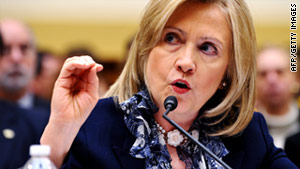 US Secretary of State Hillary Rodham Clinton warned Iran on Sunday that the planned U.S. withdrawal of combat troops from Iraq by the end of the year should not be mistaken for a lack of commitment to democracy in the region.
In an interview from Tashkent, Uzbekistan, her last stop on a four-nation tour of the region, Clinton conceded that Iraq's stability is not ensured.
"We know that there will be continuing stresses and threats, as we see in many of the countries that we work," Clinton said on NBC's "Meet the Press." "We know that the violence is not going to automatically end."
But she asserted that the United States would still maintain a robust presence in Iraq.
"We are providing a support and training mission. We will be there on the ground, working with the Iraqis," she said. "No one should miscalculate America's resolve and commitment to helping support the Iraqi democracy. We have paid too high a price to give the Iraqis this chance."
Pressed by multiple interviewers on the Sunday morning talk shows as to whether the withdrawal would open Iraq to greater influence from Iran, Clinton offered a warning: "Iran would be badly miscalculating if they did not look at the entire region and all of our presence in many countries in the region, both in bases [and] in training, with NATO allies, like Turkey," she said on CNN's "State of the Union."
Clinton also repeatedly noted that the deadline for withdrawal was originally agreed on with the Iraqi government by President George W. Bush. And she sought to play down the failure of negotiations between the Obama administration and Iraqi Prime Minister Nouri al-Maliki to keep several thousand U.S. troops in Iraq beyond 2011 for special operations and training. Those discussions foundered when Maliki was unable to persuade anti-U.S. elements of his governing coalition to guarantee U.S. troops legal immunity.
"The point of our involvement in Iraq . . . was to create the opportunity for the Iraqis to have their own future without the oppression of a dictator like Saddam Hussein," Clinton said on "Fox News Sunday." "Now you can't on the one hand say you are all for democracy and sovereignty and independence where people make their own choices, and on the other hand say when a choice is made that is foreseen by our government going back to the Bush administration . . . that that is somehow not appropriate."
Turning to Libya, Clinton expressed support for calls by both the United Nations and the rebels' Transitional National Council for an investigation of the apparent execution of deposed leader Moammar Gaddafi shortly after his capture last week.
"The new Libya needs to start with accountability, the rule of law, a sense of unity and reconciliation in order to build an inclusive democracy, so people who supported the former regime — unless they do have blood on their hands — should be safe and feel included in this new country," Clinton said on ABC's "This Week."