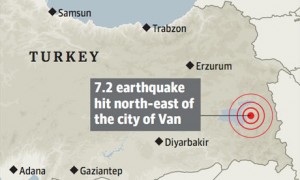 Many hundreds of people are feared dead after a powerful earthquake hit eastern Turkey, destroying scores of buildings and leaving many victims trapped in the rubble.
Scientists from Turkey's Kandilli earthquake institute said that given the force of the 7.2-magnitude quake, which struck at 1.41pm local time (11.41am BST), and often shoddy construction standards in the mountainous area near Turkey's border with Iran, up to 1,000 people may have lost their lives.
The worst-affected areas appeared to be around Ercis, a town of about 75,000 people where up to 80 buildings collapsed, including a student dormitory; and the nearby city of Van, where at least 10 buildings were razed. TV footage showed distraught relatives waiting outside a collapsed eight-storey building in Van that housed shops on the ground floor. Hospitals in Ercis reported receiving around 1,000 casualties.
The epicentre was a village about 15 miles north of Van, the Kandilli institute said.
The mayor of Ercis, Zulfukar Arapoglu, said many other buildings had been badly damaged, a particular risk with dozens of aftershocks still shaking the region, and that the town urgently needed tents. The need for shelter is particularly acute. Van is 1,750m (5,740ft) above sea level and nighttime temperatures are near freezing.
A man who gave his name as Hanifi Arli told a TV news channel that there was no sign of outside help arriving: "All these people are trapped under buildings. All buildings have collapsed. We have no ambulances," he said.
Another survivor in the town told NTV television: "It's ridiculous that there is still not a single tent here. Everybody waits outside. There is no water, no bread. It's not even clear who runs the operations … We only want the government to rescue the people trapped inside the collapsed buildings. Why is the government not helping?"
In the absence of rescue teams, many people were searching for survivors themselves, shifting rubble with iron bars or their bare hands. The quake brought down many electrical power lines, further hampering efforts.
State-run TRT television said 45 bodies had been recovered already in Ercis, and 150 people injured. Fifteen others were known to have died in Van.
The death tolls seems certain to rise significantly. Casualties were also reported in Celebibag district, near Ercis.
"There are many people under the rubble," Veysel Keser, the mayor of Celebibag, told NTV. "People are in agony. We can hear their screams for help. We need urgent help."
Earthquakes are common in Turkey, which is crossed by a number of geological faultlines. The most significant one in recent years struck the western city of Izmit in 1999.
The official death toll was 17,000, although some reports suggested the real figure was significantly higher. Poorly-built housing was blamed for many deaths, and tens of thousands more people were left homeless as other buildings were damaged beyond repair.
The head of Turkey's search and rescue organisation, Nasuh Maruki, said his staff had learned a lot from the 1999 quake and were now far better able to assist. However, he added, poorly-built buildings were likely to remain a problem: "They will all have to be strengthened to withstand earthquakes or they will have to be demolished and built from scratch."
Turkey's prime minister, Tayyip Erdogan, was travelling to Van to view the situation.
According to the country's media, Turkey has already received offers of help from the UK, US, Germany and Greece. There has also been an offer from Israel, despite difficult relations following last year's Israeli navy raid on a Turkish-registered flotilla heading for Gaza, which left nine Turkish nationals dead.
The quake was also felt in Yerevan, the capital of Armenia, and several Iranian towns close to the border, but there were no reports of injuries or damage.