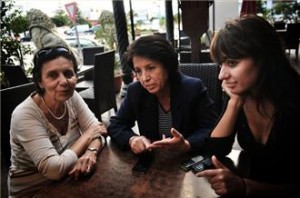 The role of women in the new Tunisia has been a controversial issue throughout the transitional period, with some fearful that they would lose precious rights from the previous era, and others arguing for a return to traditional values.
Early on in the democratic transition, an ambitious gender parity law was introduced to ensure women would have a voice in the constituent assembly.
For some, however, this law did not go far enough. There are no gender quotas for seats in the assembly, for example. And most parties have men at the head of the majority of their lists, meaning parity on the campaign trail is unlikely to translate into parity in the body that will rewrite the country's constitution and appoint a new government.
Al Jazeera's Yasmine Ryan spoke to a diverse range of Tunisian women about how they have experienced the campaign period, and their aspirations for the future.
Islam Boubaher: Voting for Al-Nahda
Islam Boubaher, a 25-year-old engineering student, joined al-Nahda immediately after the uprising. Her father has been a member of the pro-democracy Islamist movement for many years.
She has been an active volunteer for the party throughout the election campaign, and was running an al-Nahda booth for students in the town of Hammam Sousse when Al Jazeera spoke to her.
On the campaign trail, Boubaher says she has encountered women who fear al-Nahda coming to power, but she believes their concern is misguided.
"Some people are convinced by al-Nahda, others are not," she says.
"Some women are worried that they won't be able to work and that they will be forced to stay at home."
"But this isn't al-Nahda's position, otherwise I wouldn't be out here campaigning for them."
Boubaher hopes to launch her own business once she graduates, and says her biggest concern for the future of Tunisia is economic development.
Sana Charnine: Voting for the Democratic Modernist Coalition
Sana Charnine says she is very worried about the outcome of the vote on Sunday because of the likelihood that al-Nahda will win a large portion of the seats in the constituent assembly.
Al Jazeera spoke with her at the final rally for the Democratic Modernist Coalition (PDM), where thousands had gathered in El Menzah, north of the capital, in support for the coalition of centre-left parties which champion gender equality.
"I will be voting for the PDM because it's a democratic coalition of several parties, and because they support freedom of expression and freedom of religion," she said.
"I'm very afraid, there is a real risk from the Islamists. There's only one party that scares me, al-Nahda," she says.
"Our family is very open. We are Muslim, but open-minded and modern."
Dhouha Trabelsi: Unlikely to vote
Dhouha Trabelsi is unsure if she will be able to join her compatriots in the country's first genuine shot at democracy on Sunday.
"I don't know if I'll be able to vote, because I'll be working," she says.
Like many Tunisians, she is too busy trying to make a living to have much time to play an active role in the political process and does not know much about any of the political parties.
The 26-year-old will be working a nine hour shift at Baguette et Baguette, a fastfood store in downtown Tunis, the capital. Despite having a degree in hydromechnical engineering, she has been unable to find skilled, well-paid work.
For Trabelsi (no relation to Tunisia's former first lady Leila Trabelsi), the number one concern is economic development.
"I hope things will change in every way – politically, socially and especially economically," she explains.
Kalthoum Triki and Mounia Jameleddine: Encouraging other women to vote
Along with a group of other women in Sousse, Mounia Jameleddine and Kalthoum Triki co-founded the Karama Assocation in April, an organisation that aims to represent women across the country, especially in rural areas.
"We're working to achieve complete equality between men and women, and to reach out to women who have no idea about their rights and [who] accept their fate," Jameleddine said.
"We believe in democracy and in women's progress," Triki told Al Jazeera. "We want to maintain the rights we already have and to go further."
In the Sousse region, Karama's members were helping to encourage women to enrol to vote for the constituent assembly in July and August, visiting women in their homes, in shopping malls, at the beach and at festivals.
"Sousse is the second highest town in Tunisia in terms of voluntary inscriptions," Triki noted.
After years of rigged elections under now-ousted President Zine El Abidine Ben Ali, many women have been sceptical – believing that nothing had really changed this time round, they said.
"Hopefully, when they see that this election is truly transparent, mentalities will change, because it's not easy to make people change their minds," Jameleddine concluded.
Om Zayed: Boycotting the election
Om Zayed is an activist for Hizb ut-Tahrir, a conservative Islamist party that calls for all Muslim nations to be united under a single caliph, or Muslim leader.
Her party will not be competing in the elections after the Tunisian authorities refused to grant it authorisation, and Om Zayed is boycotting the election.
The young mother is strongly critical of women who have been advocating for existing women's rights to be protected, especially when it comes to the Tunisian Association of Democratic Women (ATFD by its French acronym).
"These women are enemies of God and his Prophet and yet they claim to speak in our name," she told Al Jazeera.
Om Zayed denounces the rights women gained under former President Habib Bourguiba, which include the right to initiate divorce, equal pay and to access abortion facilities.
"These women call for the gains made by Tunisian women to be preserved, but what gains are they referring to?"
"The media claim that [they] represent the majority [of Tunisian women] but in reality, they only represent a tiny minority."
Monia Bensaid: Undecided
In Jebel Lahmar, a poor suburb to the northwest of Tunis, Monia Bensaid is unsure who she will be voting for.
"There are too many parties," she told Al Jazeera. "At first, I thought I would vote for al-Nahda, but given the recent events, I'm not so sure. I don't trust them."
The mother of three began to have second thoughts after she witnessed violent protests against Nessma TV.
Although al-Nahda moved swiftly to condemn the acts of violence, Bensaid is suspicious of the party's links to the hundreds of men who came to Jebel Lahmar on October 9.
"I watched them [the protesters] from the roof of my house and I saw strange men I'd never seen before," she said. "These people are tainting the name of Islam."
She says she hopes politicians that are "honest and God-fearing" will be elected.