Tunisians gear up for historic vote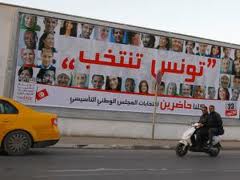 Tunisian voters on Saturday weighed their choices on the eve of the Arab Spring's historic first elections nine months after the surprise toppling of strongman Zine el Abidine Ben Ali that started it all.
Campaigning ended at midnight for the vote the previously banned Islamist Ennahda party is tipped to win, with the ISIE independent polling commission reminding candidates and journalists that Saturday would be an "election silence day".
"Any overstepping or breach … amounts to an electoral crime punishable by law," it warned in a statement.
On Sunday, Tunisia's 7.2 million eligible voters have been called to elect a 217-member assembly that will rewrite the constitution after two decades under Ben Ali.
The seemingly entrenched dictator was forced to flee to Saudi Arabia in January, a month into a leaderless uprising driven by social injustice, poverty and corruption.
The assembly will also have the loaded task of appointing an interim president and a caretaker government that will remain in place for the duration of the drafting process, expected to take a year.
Voters will choose from 11,686 candidates on 1,517 lists — 828 for political parties, 655 for independents and 34 for party coalitions.
Political party volunteers swarmed the streets of Tunis on the last day of campaigning Friday, handing out flyers in a festive atmosphere as thousands flocked to an Ennahda rally in a poorer suburb.
"We will recognise the results of the elections, we will congratulate the winners, no matter Ennahda's score," party leader Rached Ghannouchi told supporters, adding: "To date, the campaign has been acceptable."
The party, expected to win up to 30 percent of the vote, had warned Wednesday of vote-rigging and vowed new uprisings if it detects electoral fraud.
The Progressive Democratic Party also held its closing rally Friday, its leader Maya Jribi urging voters to "show the world the true image of an open and moderate Tunisia."
The latest opinion polls put the PDP in second place.
The constituent assembly will have to address such crucial issues as the form of the new government and guarantees of basic rights, including gender equality, which many fear Ennahda would seek to diminish.
The stakes are high. The success or failure of the election will send a strong signal to the people of the Arab world who drew courage from Tunisia's revolutionary example to start their own uprisings, scoring its latest triumph with the killing Thursday of Libya's Moamer Kadhafi.
Claiming to model itself on Muslim Turkey's secular state, Ennahda has sought to reassure a divided electorate by promising not to curb women's rights, widely considered the most liberal in the Arab world.
But secularists have denounced what they call the party's double-speak, accusing it of being modernist in public but radical in the mosques.
More than 100 political parties in all will contest Sunday's polls, but the progressive left remains divided with party leaders having ruled out a pre-vote alliance.
Elections will be secured by more than 40,000 police and soldiers and witnessed by some 13,000 local and more than 600 international observers, as well as about 1,000 journalists and bloggers.
United Nations chief Ban Ki-Moon said through his spokesperson in New York late Friday he would be following the elections with "keen interest."
"Tunisia's example has inspired the region and the world, and these elections are of great importance in the country's democratic transition," he said.
He also found it "encouraging to see the level of enthusiasm and preparedness the people and officials have shown to make the elections a success."
Results are expected Monday.