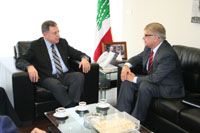 Russian Ambassador to Lebanon said on Saturday that his country supports the UN-backed Special Tribunal for Lebanon (STL), according to a statement issued by Future bloc leader MP Fouad Siniora's office.
"Russia has always supported the implementation of all United Nations' resolutions related to Lebanon, including the STL. Russia has backed and contributed to the funding of the tribunal, and still upholds it as mechanism of international legitimacy," said Alexander Zasypkin after meeting with Siniora in Beirut.
The Iranian and Syrian backed Hezbollah-led alliance which currently dominates Lebanon's cabinet has opposed a clause in the Lebanese annual state budget pertaining to the funding of the UN-backed court. On the other hand Prime Minister Najib Mikati and MP Walid Jumblatt ( who is represented by 3 ministers in the cabinet ) have repeatedly voiced Lebanon's commitment to funding the tribunal
Four Hezbollah members have been indicted by the STL in the 2005 assassination of former Prime Minister Rafik Hariri. However, the Shiite militant group strongly denied the charges and refused to cooperate with the court. The prime suspect in Hariri's assassination , a key Hezbollah official has reportedly been stripped of his position by the group
He also voiced his country's support for Lebanon's sovereignty and independence and its interest in Lebanon's stability and security, which guarantees that Lebanon will not be affected by events taking place in Syria, the statement added.
The United Nations says the Syrian regime's campaign to clamp down on anti-regime protests has resulted in more than 3,000 deaths since March.