Minister Bassil attacks General Rifi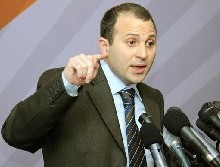 Energy Minister Gebran Bassil told Voice of Lebanon on Saturday that Internal Security Forces (ISF) Director General Achraf Rifi's "duty" is to uncover spy networks.
"The least of Rifi's duties is to uncover spy networks and he should not get credit for it," he said.
FPM and Hezbollah along with the Syrian ambassador have mounted a campaign against Rifi ever since he revealed that the embassy employees have been involved in kidnapping Syrian opposition figures inside the Lebanese territories .
Bassil is the son-n-law of Free Patriotic Movement leader MP Michel Aoun, a close ally of Syria and Hezbollah
Bassil , who is a former minister of communications also addressed the latest events that took place on Friday in the town of Tarshish where the municipality prevented members of Hezbollah from setting up a telecommunications network.
"The Telecommunications Ministry said that no one has the right to use the state's networks," he added.
MTV station reported on Friday that Hezbollah threatened the residents of the upper Metn town of Tarshish after they had prevented the Shiite militant organization from installing its own private telecommunications network in the town.
Hezbollah is reportedly installing its telecom network throughout Mt Lebanon using the state's network infrastructure. Ya Libnan correspondent in the Shouf region of Mt Lebanon reported seeing Hezbollah technicians installing their network from Ain Dareh to Beiteddine during the past two weeks and the work is still ongoing.