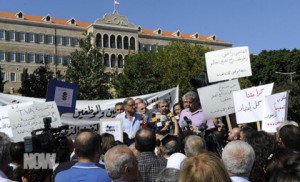 Public and private school teachers went on strike and protested on Wednesday morning in front of the Grand Serail , National News Agency reported.
Mohammad Kassem, a member of the Syndicate Coordination Committee , said that a delegation of the protesters will visit Prime Minister Najib Mikati to submit their demands and voice "condemnation of the wage increase."
Hanna Gharib, the head of Secondary Teachers Associations said earlier that the strike is a "reaction to the Cabinet's decision which is an insult to our dignity," voicing confidence that it would be successful. "We will show them that we are united."
Under a deal reached by the government and the General Labor Confederation last week, the minimum wage was raised to LL700,000 from LL500,000, while the wages of those earning less than LL1 million were raised by LL200,000 and wages of those earning between LL1 million and LL1.8 million were raised LL300,000.
Under this deal experienced teachers and supervisors earning in excess of 1.8 million LL will be earning less than their subordinates .
The economic committees voiced their reservations over the cabinet's decision and the General Workers Union suspended the strike that was planned for October 12.