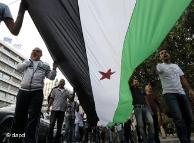 A group of about 30 demonstrators stormed the Syrian embassy in Berlin early on Sunday and confronted the ambassador, according to the police.
The break-in followed earlier demonstrations outside the embassy on Saturday. No-one was hurt or arrested, a police spokesman told the news agency AFP.
The protestors broke through a fence and rushed inside to confront the ambassador, who also lives at the embassy.
The police said the embassy staff reacted very calmly, and the protestors were merely removed from the scene. There was no violence or arrests.
The police have since strengthened their presence around the embassy.
The incident followed a long day of violence in Syria, after security forces opened fire on a funeral for Kurdish opposition leader Mashaal Tammo, killed on Friday by masked gunmen in his home in north-eastern Syria.
Demonstrators also picketed the Syrian embassies in London and Vienna on Saturday night. Five Syrian Kurdish protestors were also arrested in Geneva on Saturday night when they tried to enter the Syrian permanent mission to the United Nations.