Berri describes Aoun as a 'eunuch', WikiLeaks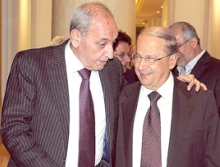 According to a US diplomatic cable leaked by WikiLeaks, Speaker Nabih Berri described Free Patriotic Movement leader MP Michel Aoun as a "eunuch."
During a meeting on November 6, 2007 addressing the Lebanese presidential elections with then-US Ambassador to Lebanon Jeffrey Feltman, Berri said that Aoun is a "eunuch" among the candidates for the presidency, the cable said, adding that "the speaker beseeched the ambassador to not share his comment on Aoun ."
The cable also said that the speaker "pulled Feltman into his side office in Ain al-Tineh for a private word and urged the US to work on Aoun to find out what the latter would need in return for renouncing his own presidential aspirations."
"If Aoun agrees to concede the presidency then it makes for a possible solution: a president who is closer to March 14 than March 8. As long as Aoun remains in the running, my hands are tied," the cable quoted Berri as saying.
The cable added that if "Aoun agrees to accept certain ministerial portfolios, then Berri would be willing to support someone like Boutros Harb or Robert Ghanem."
Feltman asked Berri for "confirmation" that he would support Harb, the cable also said, adding that Berri said: "Yes, if Aoun will agree to step aside."
On November 23, 2007, the term of Lebanese President Emile Lahoud came to an end and the March 14 and March 8 coalitions could not agree on a successor.
In May 2008, Hezbollah rejected the Fouad Siniora government's decision to transfer Brigadier General Wafiq Choucair from his position as airport security chief and insisted the brigadier remain at his post.
The dispute over the issue stirred a week of sectarian fighting that killed more than 100 people across the country and became known as the May 7 events.
Negotiations to halt the crisis, in which senior representatives from all Lebanese political parties participated in, took place in Doha, Qatar from May 17 to May 20. The participants agreed that Michel Sleiman was the preferred presidential candidate and he was elected on May 25.
Click here to read the cable
A eunuch ( Greek: Ευνούχος) is a person born male most commonly castrated, typically early enough in his life for this change to have major hormonal consequences. (Less commonly, in translations of ancient texts, "eunuch" may refer to a man who is not castrated but who is impotent, celibate, or who displays effeminate characteristics.)